Contact Info
---
336.758.3320

Location
---

Hours
---
Monday—Friday
8:30 a.m.—5 p.m.

Mailing Address
---
P.O. Box 7225
Winston-Salem, NC 27109
---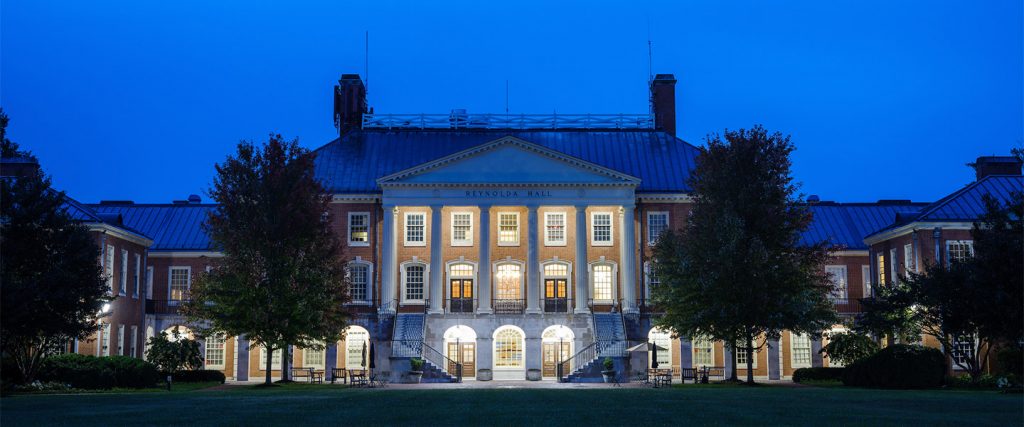 A tour guide to your future.
As expressed in the University's Statement of Purpose, Wake Forest dedicates itself to fostering "habits of mind that ask 'why,' that evaluate evidence, that are open to new ideas, that attempt to understand and appreciate the perspectives of others, that accept complexity and grapple with it, that admit error and that pursue truth." Advising at Wake Forest reflects this vision and aspires to encourage students on a personal journey—one in which courses chosen and decisions made both inside and outside of the classroom are intentional and reflect exploration, open-mindedness, creativity, appropriate risk-taking and willingness to learn from challenges.
---
June 2023 Advising Sessions
In June, new students are strongly encouraged to contact the Office of Academic Advising to have a telephone advising session with a member of our staff. Students should follow the schedule below and should use this website and other resources to prepare specific questions. Due to volume, we cannot offer multiple telephone advising sessions, so please prepare your questions ahead of time as much as possible. After your advising session, if you have additional questions, we will ask that you direct those to us via email at undergraduateadvising@wfu.edu. This email address is monitored closely and you will typically receive a reply within 48 hours.
We will be accepting advising calls Monday-Friday, June 5-30, from 9 a.m. to 4:30 p.m. EDT.
Appointments are not scheduled; when you call 336.758.3320, you will be prompted to leave a message with your name, WFU ID number, a call-back number, and your timezone. The next available Academic Counselor will return your call; since your phone likely won't recognize our number, keep in mind that "Potential Spam" or an "Unknown Caller" is likely us trying to reach you.
International students should email undergraduateadvising@wfu.edu from their WFU email account to request a June Advising session. The Academic Coordinator of OAA will respond within 48 hours with next steps.
| Last Name Begins With | Call During the Week of |
| --- | --- |
| H – M | June 5–9 |
| A – G | June 12–16 |
| N – T | June 19–23* |
| U – Z | June 26–30 |
*The University will be closed on Monday, June 19th in observance of Juneteenth.
---
Lower-Division Advisers
The lower-division adviser is a member of the faculty or staff who provides academic guidance and support. Your lower-division adviser will be available during New Deac Week to review your schedule with you. Until you declare a major, your lower-division adviser will guide and support you during and between registration periods except the first round this summer. A face-to-face meeting with your adviser is required before all registration periods except the first. Students are encouraged to arrange additional meetings at any time to seek advice or assistance.
---
Student Advisers
Your student adviser is a current student who is trained to provide academic guidance and mentorship and will work with your lower-division adviser. Both will be available to assist you with your transition to Wake Forest. Your student adviser will reach out to you via WFU Google Mail in mid-August.
You will be assigned a lower-division adviser and a student adviser in mid-August.
---
Professional Advising Staff
In addition to your lower-division adviser and your student adviser, academic counselors in the Office of Academic Advising can assist with academic planning, navigating university policies and procedures, and any other academic need or concern.
Walk-in hours are Monday-Friday, 10 a.m.–4 p.m., in Reynolda Hall, Room 125.
---
Pre-Professional Advisers
Pre-professional advisers for the health professions (medical, dental, veterinary medicine, PA, PT, nursing, etc.), pre-law, pre-engineering, pre-business, pre-Wall Street and pre-graduate school are also available to meet with you.
2023-24 Academic Services Calendar
It contains important dates regarding holidays, exams, and course drop and add dates. Copy these dates into your calendar now; you are expected to be present on all dates when the university is in session through your last exam.
---
Do NOT schedule travel plans until you know course meeting times, assignment due dates and your final exam schedule.