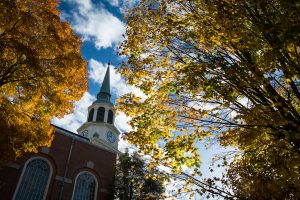 NOTE: the information below was for summer of 2017. Information for the 2018 New Students website will be available in mid-May 2018.
Congratulations to parents and families of students enrolled into the Class of 2021!  We are eager to welcome your student to Wake Forest in less than two weeks!  Please scroll down this page to see all important dates and deadlines.
Move In Parking Pass (new August 17) – please be sure to print a Move-In Parking Pass and bring it with you when you move your Deac to campus.
Orientation schedule: Visit http://go.wfu.edu/newdeac17 to download the WFU Orientation Programs app, or view it on a laptop/desktop computer or unsupported mobile device at http://go.wfu.edu/nd17online.  NOTE: choose the Schedule By Tracks option and select the Parents and Families track to see parent/family Orientation programming.  Use the dropdown to change from Weds. 8/23 to Thurs. 8/24.
If you have not yet signed up for the Just for Parents and Families program on the evening of Wednesday, August 23rd, you can do so here.
Please feel free to contact the Office of Family Engagement at parents@nullwfu.edu if you need additional information or assistance.  Welcome to Wake Forest!