Contact Info
---
336.758.4931

Location
---

Mailing Address
---
Box 7777
Winston-Salem, NC 27109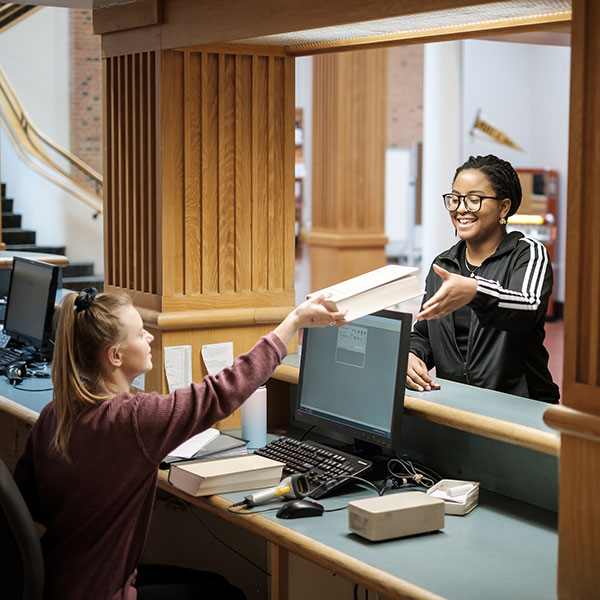 Your portal to infinite knowledge.
Z. Smith Reynolds Library, fondly referred to as ZSR, is the main library on campus and provides a host of services to help you succeed.
---
Library Resources
Find books, journals, videos, music, databases, newspapers, and equipment
Get help with papers and projects: schedule a personal research session with a subject specialist
Choose from 1,300 study spaces, including collaborative study rooms, individual carrels, and various space options throughout the library
Attend classes on information literacy topics including introduction to research, disciplinary research, and information issues such as mis/disinformation online
Access class readings through Course Reserves
Visit Special Collections & Archives for primary sources.
Reserve a range of multimedia equipment including cameras, iPads, microphones, projectors, and more. Make your request from our equipment website
Get help at The Writing Center and the Information Systems Help Desk, both located inside ZSR
Refresh yourself in the café, which serves locally-sourced coffee and pastries just inside the front entrance
Utilize the Mac Lab, the library's PCs, and our multifunction printers/scanners/copiers for papers, presentations, video creation and more
Request library materials in advance through the library catalog and pick them up at your convenience via the Smart Lockers, located in the 24-hour study room.
---
Library Hours
ZSR is open Monday—Thursday, 7:30 a.m.—1 a.m.; Friday, 7:30 a.m.—7 p.m.; Saturday, 12—5 p.m.; and Sunday, 11 a.m.—1 a.m.
Check zsr.wfu.edu/calendar for updates to the library's scheduled hours. There are multiple study rooms open 24/7 near the front entrance.
---
Connect
Look for AskZSR throughout the library to find assistance. Stop by the Library Services Desk for personal assistance (Reynolds Wing, second floor.)
---
Events
Year-round events including book clubs, game nights, and "Wake the Library" during finals.