Contact Info
---
336.758.5154

Location
---

Mailing Address
---
1834 Wake Forest Road
Winston-Salem, NC 27109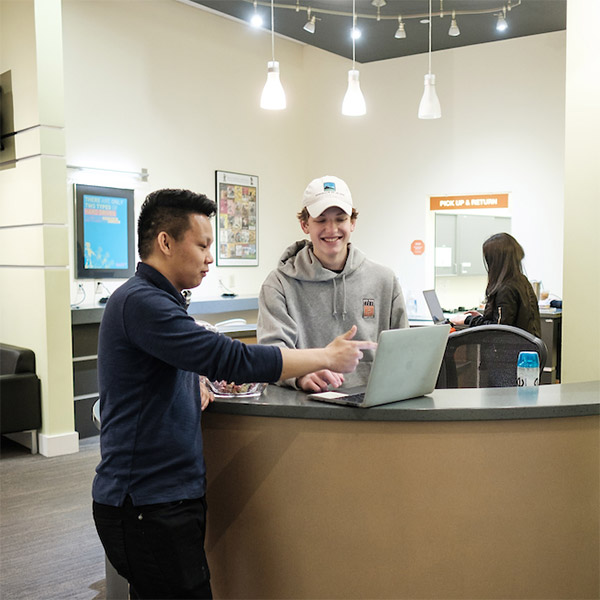 Your portal to infinite knowledge.
Z. Smith Reynolds Library, fondly referred to as ZSR, is the main library on campus and provides a host of services to help you succeed.
---
Library Resources
Find books, journals, videos, music, databases, newspapers, and equipment
Get help with papers and projects: schedule a personal research session with a subject specialist
Use 1,300 study spaces, including collaborative study rooms, individual carrels, and a variety of space options throughout the library
Attend classes on information literacy topics including "Introduction to Research," "Disciplinary Research," and information issues such as mis/disinformation online
Access class readings through Course Reserves
Visit Special Collections & Archives for primary sources (archives@

null

wfu.edu)
Get help at The Writing Center and the Information Systems Help Desk, both located inside ZSR
Refresh yourself at Camino Bakery, which serves locally-sourced coffee and pastries just inside the front entrance
Utilize the Mac Lab, the library's PCs, and our multifunction printers/scanners/copiers for papers, presentations, video creation and more.
Use the Smart Lockers to pick up requested books, DVDs or AV equipment even when the library is closed.
---
Library Hours
ZSR is open Monday—Thursday, 7:30 a.m.—1 a.m.; Friday, 7:30 a.m.—5 p.m.; Saturday, 12—5pm; and Sunday, 11 a.m.—1 a.m.
Check our calendar for updates to the library's scheduled hours. There are multiple 24-hour study rooms near the front entrance.
---
Connect
Look for AskZSR throughout the library to find assistance. Stop by the Reference Desk for personal assistance (Wilson Wing, Fourth Floor).
---
Events
Year-round events including book clubs, game nights, and "Wake the Library" during finals.