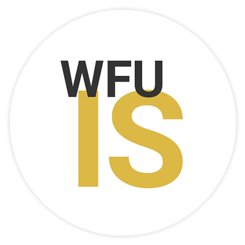 The power button to our campus.
With robust campus-wide wifi, world-class software, friendly tech support, and laptop repair and loaners when bad luck strikes, the Office of Information Systems is here to keep our Wake Forest students connected.
Checklist before you arrive on campus!
▢ Activate your WFU Account and enable Google 2-Step Verification. Your password should not be shared with anyone, including your parents/family members.

▢ Keep an eye on your WFU Google Mail as this is your primary resource for Wake Forest updates.

▢ Purchase a WakeWare laptop or ensure your Bring Your Own Device (BYOD) meets minimum requirements.

▢ Explore Software@WFU to peruse software available to you.

▢ Visit our Incoming Students Page for more details on student technology tools and services
---
What you need to know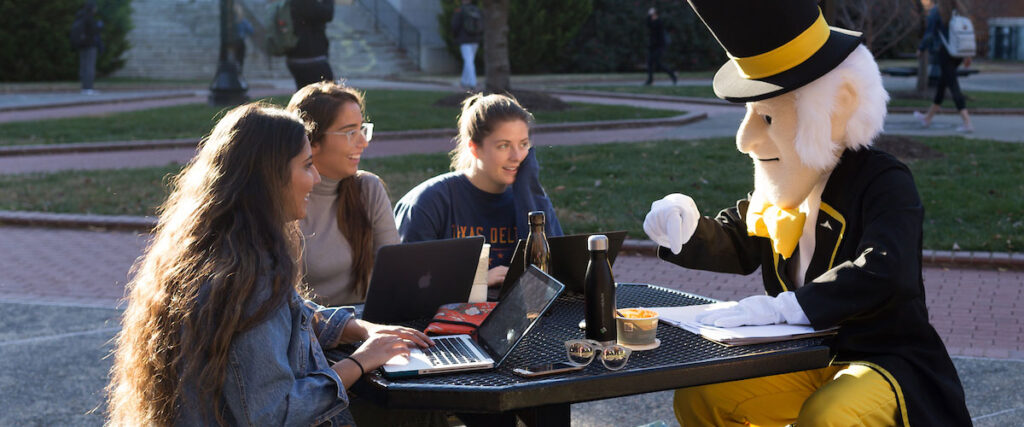 The Campus Network
Get connected! Connect to the WFUWireless network from your mobile and laptop and login with your WFU username and password for access to the fastest network speeds.
For other entertainment devices (such as gaming consoles, Amazon Echo, and other non-traditional networked gear) connect to the internet using the WFUmydevices network.
---
Computer Requirements
The WakeWare program provides you the opportunity to purchase a specially selected laptop at educational prices with extended insurance and warranties. Our on-campus IS Service Desk is certified to repair all WakeWare laptops and guarantees that you have a loaner if we are repairing the laptop. Undergraduate students receiving merit-based, need-based, or athletic scholarship aid are eligible for the Technology Grant (TG), which covers the full cost of a "standard" Mac or Windows WakeWare laptop. TG recipients will be contacted in late May. 
If you are bringing your own device, be sure it meets minimum configuration requirements.
---
Software@WFU
Software@WFU provides you with privileged access to software, like Office365 (Word, Powerpoint, Excel and more), Adobe Creative Cloud (PhotoShop, Illustrator, Acrobat, Premiere, etc.), Zoom and more. Many of these software offerings have their own mobile apps too!
---
Google Workspace
Google Workspace is available for your laptop and your mobile device!
Google Mail: Stay connected with your primary resource for campus communications – check it frequently!
Google Drive: Access unlimited storage for your projects, photos, and documents
Google Calendar: Stay organized and on task
Google Sites: Create your own site to showcase your work
Google Sheets, Docs, Slides, and Forms: Communicate, plan, gather, organize, and present with these powerful collaboration resources
---
Academic Technologies
Canvas allows you to view grades and course content, submit assignments, keep track of course work with your to-do list and calendar, send and receive messages, post to discussions, and more. Canvas support is available 24/7 via live chat or a WFU-dedicated support line.
Beyond your academic coursework, explore the thousands of courses available to you through LinkedInLearning.
As an Adobe Creative Campus, you have full access to Adobe Creative Cloud for graphic design, video editing, web development, photography, and cloud services.
---
Printing
Easily print from your device to student printers in ZSR, Benson, and other buildings using deacprint.wfu.edu.
---
Security
Stay cyber-aware and learn about emerging cybersecurity issues like phishing, doxxing, and more by visiting KnowBe4. With KnowBe4, you can participate in interactive training to help protect yourself from malicious emails and social engineering attacks.
---
WakerSpace
The Wake Forest makerspace, WakerSpace, is a 3,000 square foot facility that serves as a location for classes, workshops, and hands-on experiences that foster creativity, ingenuity, problem solving, and intellectual curiosity. Laser cutters, 3D printers, woodworking tools, sewing machines, a podcast room, and more provide you with a variety of outlets for creative expression.
---
Wake Information Network (WIN)
WIN provides access to academic and administrative services for the Wake Forest University community.
---
OneCampus
OneCampus is our mobile-friendly, modern, accessible app that acts as a true campus launchpad, providing access to a collection of campus resources, including everything from your Student ID, dining menus/hours, parking information, and more.
---
Technology Accessibility
A11y Audio raises awareness on the importance of technology accessibility, provides resources for our campus community, and offers guidance on how technology accessibility provides an opportunity for our connections to be more inclusive, both in the classroom and beyond.
---
Tech Help
Ensuring you have a great tech experience is important to us! Our Information Systems Service Desk is located in the Atrium of the Z. Smith Reynolds Library for drop in service. Add 336.758.HELP (4357) to your mobile device for quick access to phone assistance. We also offer live chat, email, or our online help portal, AskDeac, which is available at any time.
---