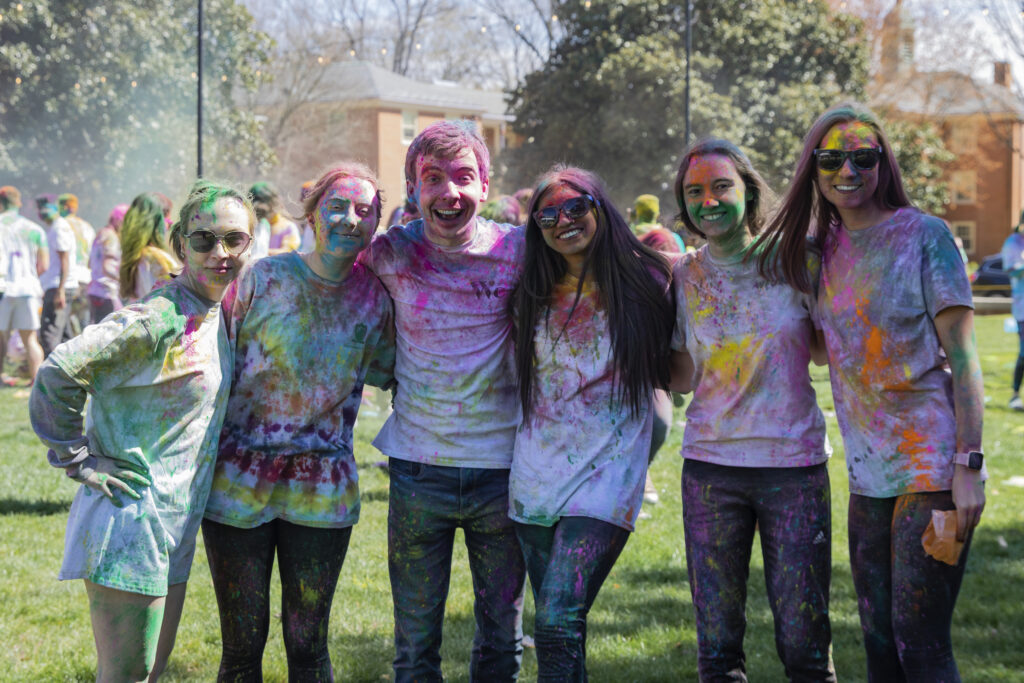 Becoming Yourself and Engaging with Others
What is Project Wake?
Wake Forest has a long tradition of engaging in a summer academic project on an issue of intellectual and social importance. The tradition includes setting aside time during New Deac Week for students to engage with a faculty or staff member on this issue. It is a favorite New Deac Week activity.
The Project Wake 2023 theme is:
Becoming Yourself And Engaging With Others
Throughout life, we are often faced with moving to a new place or inhabiting a different space and environment. Through this process of change, we are constantly developing professional, personal, and spiritual connections. These transitions – changing schools, going to college, landing a new job, or having to relocate – can represent an opportunity to reflect on ourselves, our objectives, and how we want to engage with our new environment and its inhabitants (roommates, neighbors, colleagues).
As the newest members of the Wake Forest community, we'd like you to think ahead to your next years with us — how does one succeed in this opportunity? How can we build community and find common ground in a world that is so focused on polarization? How do we create and maintain a balance between becoming our own person, with a set of values and perspectives, while remaining open to other ways of living, thinking and seeing the world?
As a participant in Project Wake 2023, you will join your peers in thinking about the challenges and opportunities of the remarkable times in which we live and how your unique background equips you to meet those challenges. In June, you will find a list of the 2023 Project Wake summer reading options at go.wfu.edu/projectwake. Explore the themes of Becoming Yourself and Engaging with Others across a wide range of subjects, genres, and disciplines. These conversations have proven to be an exciting and meaningful way to make new friends, and discuss issues that matter.
More on Project Wake
Five former Project Wake participants and discussion leaders share their experiences with Project Wake and why they would encourage students to participate.
---
Reading Options & Discussions
Authors: Catherine Whitlock and Rhodri Evans
Discussion Leader: Hu Womack
Description
The 10 scientists featured in this book all faced challenges in following their desired career paths and becoming their genuine selves. The authors describe how they successfully navigated these challenges to become leaders in scientific research in their chosen fields of study, changing science and the world as they went. This book offers multiple wonderful examples of the importance of remaining open to other ways of living, thinking, and seeing the world around us! (This book is available from the ZSR Library as an ebook. You must be logged into your WFU Google account in Chrome for access.)
Discussion Leader Bio
Hu Womack: I'm Hu Womack [he|him] and I'm a Double Deac (BA '90, MBA '00) I'm an Instruction and Outreach Librarian at the Z. Smith Reynolds Library (ZSR) and a lower division adviser. I love this book because each of these 10 individuals navigated their own path in order to accomplish great things, and I think we can all learn about finding our own path from the stories of their lives!
Author: Becky Chambers
Discussion Leader: Dr. Guy Witzel
Description
What does it mean to come of age in a time of environmental crisis and technological over-dependence? What would it mean to truly live sustainably? How should we understand our responsibilities to each other and other life-forms as we sort out what to do with our lives? Becky Chambers explores these questions and more in this cozy, queer, post-climate change novella (only 160 pages!). Moving, funny, and philosophical, this work of contemporary science fiction will appeal to anyone eager to imagine a healthier and more inclusive future for themselves and the larger world.
Discussion Leader Bio
Dr. Guy Witzel: I am an Assistant Teaching Professor in the Writing Program whose courses often concern our complex and sometimes strange relationships with the natural world. I am excited to sit down with you and imagine other worlds, alternative futures, and what it's like to drink tea with robots.
Author: Holan Liang
Discussion Leader: Silvia Tiboni-Craft
Description
In this book, Dr. Holan Liang talks about how a sense of belonging – being liked, understood, accepted for who we are – is vital for our mental health. Whether it is fitting in at school, struggling to connect with colleagues in a new job, or just feeling out of place in our own family, we all, at various stages in our lives, find ourselves questioning our identity. Through the narrations of real stories, the author will guide the reader to understand the causes of loneliness, reprioritize the people and things that matter, stop people-pleasing, and learn how to accept yourself in order to find a genuine connection.
Discussion Leader Bio
Silvia Tiboni-Craft: I am an Associate Teaching Professor and I have been at Wake Forest since 2012. I teach Italian Language and Cultural classes and an FYS titled "Don't call me crazy! A Journey Into Women's Mental Health in Films and Fiction. Since fall 2022, I am a Faculty Fellow in Bostwick. I am very excited to have this book discussion and I look forward to meeting you all!
Author: Martha Wells
Discussion Leader: Davita DesRoches
Description
Have you ever wanted to explore what it means to be human, through the perspective of a snarky, incisive robot narrator who would rather watch TV than deal with people? All Systems Red is the first novella in the Murderbot Diaries series written by Martha Wells and, despite its title, delivers more laughs than murder. The narrator, 'Murderbot', is a security droid who has hacked its own governor module and is providing security to a team of scientists exploring a new planet. Through Murderbot's interactions with its colleagues (human, robot, and hybrid alike), All Systems Red is an unexpectedly touching perspective on identity, relationships, and human (and artificial) consciousness.
Discussion Leader Bio
Davita DesRoches (she/her): I am the Alternative Media Specialist in the Center for Learning, Access, and Student Success at Wake Forest. Through CLASS, I connect students with disabilities with academic and assistive technologies that help them access their classes at Wake. As a technology educator and a lifelong bookworm, I love media that helps us reflect on our relationship with the many machines in our lives, which in turn helps us reflect on our relationships with others and with ourselves. As that old saying goes, maybe the real robots are the friends we made along the way.
Author: Michelle Obama
Discussion Leader: Kelsey Hansen
Description
In this memoir, we are invited into Michell Obama's world and get to see how her experiences from childhood, motherhood, work, and time as first lady have shaped her. As we learn more about her wins and her disappointments we get the chance to reflect on our own journeys and how they have shaped us. Join me as we consider who we may 'become' over the next four years and how we wish to engage with others at Wake Forest.
Discussion Leader Bio
Kelsey Hansen: I serve as the Assistant Director of Residence Engagement and Academic Initiatives within the department of Residence Life and Housing. I supervise the Community Directors on South Campus which is where the first year students call home! I'm excited to connect with you and help in your transition to living on campus.
Author: Irvin D. Yalom
Discussion Leader: Dr. Rebecca Permar
Description
How do you become yourself and discover who you are? How do you find purpose and meaning in your life and how do you do this as a new college student? In this memoir, existential psychiatrist and renowned author, Irvin D. Yalom, reflects on his life journey and invites readers to join him as he makes sense of anecdotes in his life that became life- and identity-shaping moments. While this discussion group is open to all students, I especially encourage students interested in pre-health tracks to come together and explore aspects of professional and personal identity, their goals, and how to navigate college life in this new chapter of their lives.
Discussion Leader Bio
Dr. Rebecca Permar: I am a postdoctoral fellow for pre-health professions in the Program for Leadership and Character but you can also find me in the Office of Academic Advising and the Interdisciplinary Humanities program where I teach a course on Medicine and the Humanities. I can't wait to meet you and engage in a conversation about Dr. Yalom's journey and how it resonates with you!
Authors: Aminatou Sow and Ann Friedman
Discussion Leader: Dr. Eunice Jianping Hu
Description
Are you and your best high school friend about to be living hundreds of miles apart? Want to learn how to keep each other close? Are you excited to make new friends at Wake Forest? How can you create friendships that will last a lifetime? Aminatou and Ann, authors of this New York Times best selling book, define Big Friendship as a strong, significant bond that transcends life phases, geographical locations, and emotional shifts. In this book, the two friends tell the story of their equally messy and life-affirming Big Friendship in this honest and hilarious book that chronicles their first decade in one another's lives. Big Friendship will invite you to think about how your own bonds are formed, challenged, and preserved. It is a call to value your friendships in all of their complexity. Actively choose them. And, sometimes, fight for them.
Discussion Leader Bio
Dr. Eunice Jianping Hu: I am a Teacher-Scholar postdoctoral fellow in the Program for Leadership and Character & the Interdisciplinary Humanities Program. I have been teaching courses about ethics and good life such as "Dialogues with Antiquity–The Good Life in Eastern and Western Perspectives" and "Reading the Modern World–Friendship" at Wake. I am excited to see you all and have a fun and meaningful discussion about friendship!
Author: Nnedi Okorafor
Discussion Leader: Shelley Sizemore
Description
Her name is Binti, and she is the first of the Himba people ever to be offered a place at Oomza University, the finest institution of higher learning in the galaxy. But to accept the offer will mean giving up her place in her family to travel between the stars among strangers who do not share her ways or respect her customs.Knowledge comes at a cost, one that Binti is willing to pay, but her journey will not be easy. The world she seeks to enter has long warred with the Meduse, an alien race that has become the stuff of nightmares. Oomza University has wronged the Meduse, and Binti's stellar travel will bring her within their deadly reach. If Binti hopes to survive the legacy of a war not of her making, she will need both the gifts of her people and the wisdom enshrined within the University, itself — but first she has to make it there, alive.
Discussion Leader Bio
Shell Sizemore: I am the Director of the Women's Center at Wake Forest University. I am a Double Deac ('06, '09), and before coming to the Office of Diversity and Inclusion, I worked in the Office of Civic & Community Engagement at Wake. I have previously taught courses at Wake Forest in Education and Communication, and the book I've included invites us to look at both of those human experiences through the lens of science fiction. Binti is one of my favorite literary characters of all time and I hope you'll join me in learning from her journey.
Author: Trevor Noah
Discussion Leader: Michael Shuman
Description
From apartheid South Africa to the most recent host of the Daily Show, Trevor Noah's fascinating journey from his "criminal" birth to his celebrity adulthood is illustrated through a series of personal essays that are deeply moving, terribly unsettling, yet absolutely hilarious. Noah is a gifted storyteller, and his ability to recover from adversity is highlighted in each story. His experiences with racism, religion, politics and family are both relatable and compelling, and I'm certain that we will have a lively and meaningful discussion about what it means to become yourself and engage with others, particularly during this significant time of change in your lives.
Discussion Leader Bio
Dr. Shuman: I am the Director of the Center for Learning, Access, and Student Success (CLASS), where we are committed to providing opportunities for all students to achieve academic success. The CLASS coordinates many of the academic support services, including peer tutoring and academic coaching, that new students find invaluable, as they navigate their college experiences at WFU. I also teach a course in the Psychology department aimed at teaching students the skills and approaches that are associated with success in college.
Author: Edward Lee
Discussion Leaders: Morgan Ritchie-Baum & Meghan Webb
Description
In Buttermilk Graffiti, Edward Lee visits ethnic communities across the country and deciphers our modern world through culinary traditions and cultures. Through warm and informative storytelling, this engaging food travelogue examines the broader context of American food through the frames of class, society, culture, and assimilation. Lee presents the story of American food as one of transformation. As a second-generation immigrant, Lee is deeply aware of the efforts to both protect a culinary identity in a world that is foreign and bewildering, and also improvise with unfamiliar ingredients and coexist within other food cultures. Buttermilk Graffiti inspires us to look at what we eat, where it comes from, who is cooking it, and why.
Discussion Leader Bios
Morgan Ritchie-Baum: I am a Research and Instruction Librarian for Business and Social Science with the Z. Smith Reynolds Library here at Wake Forest. I teach for-credit classes in information literacy and business research topics as well as consult with faculty, students, and staff across the University on their research needs and interests. Having worked with minority and immigrant entrepreneurs for several years prior to coming to Wake Forest, many of whom have an interest in creating a better future for themselves and their families via their own unique culinary traditions and culture, I am excited to explore the intersections of identity, food, belonging, and entrepreneurial thinking with students reading Buttermilk Graffiti.
Meghan Webb: I am an Instruction and Outreach Librarian at ZSR Library. In addition to teaching LIB 100 and LIB 290 classes, I develop and lead library programs related to student engagement and instruction and work closely with the ZSR Library Ambassadors, our student leadership group.
Authors: Monica W. Tracey and John Baaki
Discussion Leader: Jessica Koehler
Description
Entering college is an incredible milestone in life, when you are able to not only deeply explore your own identity, but also the role you want to play in society, your professional identity. Creating anything, be it writing a paper, painting, or inventing the next iphone, you are a designer. Each of these endeavors is shaped by your identity and your own awareness of your identity, your interactions with others, and your place in the world. This book, Cultivating Professional Identity in Design, helps you explore your own identity, and emerging professional identity, with a focus on cultivating ten key traits for anyone who wants to be a designer: empathy, uncertainty, creativity, ethics, diversity/equity/inclusion, reflection, learning, communication, collaboration, and decision-making.
Discussion Leader Bio
Dr. Jessica Koehler: I am the Visiting Scholar of Leadership and Character in the Department of Engineering, where I support grant funded efforts to incorporate character development into the Engineering courses and extracurricular programming.
Author: Cal Newport
Discussion Leader: Dr. Stephen G. Smith
Description
In a time when daily life is easily saturated by technology, perhaps it's worthwhile to meditate more deeply on the perceived benefits and potential hidden costs of the devices we use. In this book, Georgetown University Professor of Computer Science Cal Newport argues that technology is neither intrinsically good nor bad, but the key is implementing it in a manner that supports our individual goals and values. Far from a call to return to the pre-digital age, the book serves as a guide to help us reconnect with our inner selves and engage more fully with the world around us. This is accomplished by using our devices only to the extent that they provide significant value, which will vary from person to person. It is clear for just about all of us, however, that a less distracted life is a more meaningful one.
Discussion Leader Bio
Dr. Steve Smith: I am an Assistant Teaching Professor in the Environmental Program at Wake Forest University and teach courses related to geology, water, climate, and other aspects of the environment. I use a smartphone daily, but recognize it as both ally and nemesis.
Author: Claudia Rankine
Discussion Leader: Laura Mullen
Description
The award-winning poet Claudia Rankine, well known for her experimental multigenre writing, fuses the lyric, the essay, and the visual in this politically and morally fierce examination of solitude in the rapacious and media-driven assault on selfhood that is contemporary America. With wit and intelligence, Rankine strives toward an unprecedented clarity-of thought, imagination, and sentence-making-while arguing that recognition of others is the only salvation for ourselves, our art, and our government. Don't Let Me Be Lonely is Rankine's meditation on race riots, terrorism, medicated depression and television's ubiquitous influence. Written in the years after 9/11, this is an unflinching and deeply felt consideration on life and death in a nation in flux–and it's a gorgeous and empowering read.
Discussion Leader Bio
Laura Mullen: I am the William R. Kenan Jr. Chair in the Humanities at Wake Forest University. A MacDowell and Karolyi Foundation Fellow, a featured poet at the International Poetry Festival in Taipei, a Rona Jaffe Award recipient and a National Endowment for the Arts Fellow, I hold degrees from the University of Iowa and U.C. Berkeley. My poetry has been anthologized in collections from Norton, Wesleyan, and elsewhere; recent work has appeared in the The Harvard Review, Diagram, and Tears in the Fence, and new poems are forthcoming in Volt, and the Georgia Review. My ninth book will be published in November.
Author: Tara Westover
Discussion Leader: Abbey Rhoads
Description
"Born to survivalists in the mountains of Idaho, Tara Westover was seventeen the first time she set foot in a classroom. Her family was so isolated from mainstream society that there was no one to ensure the children received an education, and no one to intervene when one of Tara's older brothers became violent. When another brother got himself into college, Tara decided to try a new kind of life. Her quest for knowledge transformed her, taking her over oceans and across continents, to Harvard and to Cambridge University. Only then would she wonder if she'd traveled too far, if there was still a way home." (From Amazon).
Discussion Leader Bio
Abbey Rhoads (she/her): I serve as the Community Director for South Residence Hall and Luter Residence Hall (two first-year halls). I look forward to welcoming you to Wake Forest University!
Author: Lea Ypi
Discussion Leader: Susan Rupp
Description
The Los Angeles Times described Free as "an engrossing coming-of-age narrative with the aura of a Cold War thriller." In this memoir, Lea Ypi, who now teaches political theory at the London School of Economics, describes her childhood in the hardline Communist regime in Albania and the discovery of her own family's many secrets in the wake of its collapse in the 1990s. Hopes for a bright post-Communist future are dashed in Albania with the rise of gangsterism, corruption, and internecine conflict. Ypi's work explores the profound connections between the personal and political, particularly at a moment of historical rupture.
Discussion Leader Bio
Professor Susan Rupp: I have been a member of the History Department for nearly thirty years, which means I tend to grouse about how much better things were in the old days, but in spite of it all I remain convinced that there are still some nerds out there who think ideas matter.
Author: Jonathan Escoffery
Discussion Leader: Rowie Kirby-Straker
Description
In a series of short stories, this book of fiction mirrors the lived experiences of many immigrants and others who come to realize that the American Dream is much more complicated than they had initially envisioned. Through themes of struggle, identity discovery, and resilience, new Deacs will be able to relate to the challenges and victories of navigating complex and uncertain situations to find social and psychological spaces that allow them to thrive.
Discussion Leader Bio
Rowie Kirby-Straker: I am an assistant professor in the Department of Communication whose teaching, research, and service focus on environmental risk perception and communication. I like to garden, connect with friends from my childhood and youth, and I especially love returning to the Caribbean, where I grew up. One of my favorite summer activities is taking Wake students to St. Vincent & the Grenadines for a course called Environmental Communication: A Caribbean Context. If you can relate to the immigrant experience in the US or want to learn more about it, you might find this book particularly relevant, refreshing, and inspiring.
Author: Bryan Stevenson
Discussion Leader: Dr. Bryan Ellrod
Description
For attorney and activist, Bryan Stevenson, we are all vulnerable, flawed – "broken" in one way or another. This brokenness is cause for suffering. However, "our brokenness is also the source of our common humanity, the basis for our shared search for comfort, meaning, and healing." Can we embrace this brokenness and meet ourselves and others with compassion? Or will we reject it, forswear compassion, and deny our humanity? In Just Mercy, Stevenson recounts his work as an advocate for death row inmates, and how engaging with the marginalized and incarcerated taught him who he was and what it means to be human. I am excited to read this book with New Deacs interested in law and the questions of justice that face our society! In Stevenson's writing we find a profound opportunity to engage with the others our society so often neglects and to discover who we are in the midst of this encounter.
Discussion Leader Bio
Dr. Bryan Ellrod: I am the Postdoctoral Fellow in Leadership and Character for Pre-Law Professions and a Pre-Law advisor here at Wake. I offer individual advising to students interested in law and the justice seeking professions, run co-curricular programming, and teach courses in the Interdisciplinary Humanities.
Author: Kazuo Ishiguro
Discussion Leader: Christa Colyer
Description
In the novel "Klara and the Sun," Nobel prize winning author Kazuo Ishiguro challenges his readers to examine what it means to be human, what it means to have a sense of self, and importantly, what part(s) of yourself can or should be shared with others? The story takes place in the near future and is narrated by Klara, an "AF" (Artificial Friend) whose remarkable observational abilities help us to see the world – and especially the potential impact of artificial intelligence, machine learning, and genetic engineering – from many different perspectives. According to Klara herself, "I could see that people were using technology to try to improve themselves, but I wondered if they were losing something in the process. Maybe there was more to being human than just being smart or beautiful or strong."
Discussion Leader Bio
Dr. Christa Colyer: I'm really looking forward to leading our discussion of "Klara and the Sun" and learning what you think about being your own person while being a human above all else. It will be fun to explore these ideas together! I'm Dr. Colyer, a Professor of Chemistry who has been teaching and conducting analytical chemistry research at Wake Forest University for more than 25 years. I also really enjoy my roles as a lower division advisor, study-abroad resident professor, and undergraduate & graduate research mentor. I look forward to meeting new students (who may or may not ever plan to take a chemistry class at Wake!) as part of Project Wake.
Author: Hope Jahren
Discussion Leader: Rebecca Alexander
Description
Lab Girl is an autobiography that reads like a novel. Hope Jahren is an award-winning soil scientist – yes, she studies dirt (and fossils). The book follows the author's path as she discovers what she loves: being in the lab, even on hard days, even when funding isn't easy to come by, even when she feels alone. It's also a story of relationships and how to be present for other people. This is ultimately a book of discovery (in the lab and in herself) and hope (conveniently that's also her name!).
Discussion Leader Bio
Dr. Alexander: I am a chemistry professor, associate dean, and director of Wake Downtown. I really fell in love with science through undergraduate research, so I do identify with the author of Lab Girl. I enjoy following the trajectories of students in their time at Wake Forest and beyond.
Author: Devon Price
Discussion Leader: T. H. M. Gellar-Goad (he/him/his)
Description
Many of us spend our days feeling tired, overwhelmed, and disappointed in ourselves for not doing "enough." These struggles are the result of the Laziness Lie, which tells us that: [1] your worth is your productivity, [2] you cannot trust your own feelings and limits, and [3] there is always more you could be doing. The Laziness Lie pressures us to ignore our true values in the pursuit of superficial "success" and encourages us to judge people who are struggling, rather than ask what unseen challenges and barriers they might be facing. We don't have to keep pushing ourselves to the brink, ignoring our body's alarm bells, and punishing ourselves with self recrimination, because we don't have to fear laziness: laziness does not exist.
Discussion Leader Bio
THM (he/him/his): I am a prof in the Classics department and am teaching a first-year seminar this fall titled "Beware the Ides, Beware the Hemlock: Roleplaying Crisis in Ancient Greece & Rome," where all the students in the course will be living in Angelou Hall and will be my advisees. If you're planning to enroll in that course, you should sign up for this book group, too!
Roksanna Keyvan and Alex Horn, two sophomores who are Student Advisers and alums of THM's first-year seminar, will be joining us for the discussion.
Author: Lucius Annaeus Seneca
Discussion Leader: Ananthi Al Ramiah
Description
Anger is a customary response to the injustices of the world. Some scholars have praised the motivating power of anger while others have expressed concerns about its destructive nature. At this moment in time, when so many of us feel justified in our anger about systems of oppression and long-standing inequity, this book encourages us to think about some of the ways in which anger stands between us and what we seek, and encourages us to consider alternative motivating pathways to our goals. I believe that this short reading provides a useful entry point into reflection and discussion about what allows us to flourish as individuals and as a society, and the ways in which we can come together to create the change that we seek.
Discussion Leader Bio
Dr. Al Ramiah: I am the Senior Research Scholar at the Program for Leadership and Character in the Professional Schools. I do research on how to develop character and leadership, and how to navigate differences (cultural, viewpoint, political, etc.). I love to think about the ways in which different dimensions of our character and personality interact with features of the current and historical social context to create an internal algorithm or shorthand that we use to respond to stimulus that comes our way. I like to consider how an emphasis on character can allow us to respond in a way that is most free, appropriate and positively impactful.
Author: Nick Riggle
Discussion Leader: Francisco Gallegos
Description
Nick Riggle—a contemporary philosopher who was once a professional skateboarder—offers a fascinating exploration of what it means to be an "awesome" person, and what it means to "suck." This book is fun, refreshing, and surprisingly deep, and it has a great deal to teach us about how to create and maintain meaningful relationships. It provides an illuminating examination of the mechanics of navigating social space, and so reading and talking about it together should be a great way for us all to be more intentional about how we go about trying to make friends and social connections here at WFU. Awesomeness is a quality that allows people to generate new possibilities in social space, and when you tap into that "spirit of awesomeness," things that once seemed impossible suddenly become possible, because the people around you are drawn into a state of openness to change.
Discussion Leader Bio
Francisco Gallegos (he/him): I am associate professor of philosophy at WFU. I do research into the politics of emotions, with a focus on Latin American and Latinx philosophy. I love teaching and find it really fun and gratifying to talk about big ideas with students, especially when we are all learning things that we find actually useful and enjoyable.
Author: Susan Cain
Discussion Leader: Dr. Betsy Chapman
Description
"In Quiet, Susan Cain argues that we dramatically undervalue introverts and shows how much we lose in doing so. She charts the rise of the Extrovert Ideal throughout the twentieth century and explores how deeply it has come to permeate our culture. She also introduces us to successful introverts—from a witty, high-octane public speaker who recharges in solitude after his talks, to a record-breaking salesman who quietly taps into the power of questions. Passionately argued, impeccably researched, and filled with indelible stories of real people, Quiet has the power to permanently change how we see introverts and, equally important, how they see themselves." (from Amazon.com)
Discussion Leader Bio
Dr. Betsy Chapman: I am the Executive Director of Family Communications at Wake Forest, which means my role is to make sure your parents and family members have ways of feeling engaged and informed about life at Wake via the Daily Deac blog. I also identify as an introvert (reading Susan Cain's book changed my life for the better and helped me see the beauty in being my introverted self unapologetically, instead of trying to fit some imagined ideal of extroverted behavior) and am the mother of a first-year college student this year (though not at Wake). Whether you are a fellow introvert or an extrovert who wants to learn more about introverts, I welcome all to this discussion!
Author: Malcolm Gladwell
Discussion Leader: Dr. Kathleen Bettencourt
Description
Talking to Strangers: What We Should Know about the People We Don't Know by Malcolm Gladwell is an exploration of why humans are actually not very good at interacting with people they don't know. The book explores many examples of events and scandals throughout history that illustrate the problems that we have when talking with and interacting with people who are different from us. The book covers topics and events in a way that will challenge your perspective and help us evaluate where and why we go wrong in different situations. Oprah Winfrey commented on the book writing, "Another must-read…I love this book…Reading it will actually change not just how you see strangers, but how you look at yourself, the news – the world. Reading this book changed me." I've been a huge fan of Malcolm Gladwell and his books for years! He does such an excellent job of introducing people to psychology and illustrating how it is ever present in our everyday lives.
Content warning: The book discusses events and topics that could be triggering or upsetting. Topics include: the trial of Jerry Sandusky, the sexual assault of Chanel Miller and the trial that followed, the suicide of Sandra Bland, and others.
Discussion Leader Bio
Dr. Kathleen Bettencourt (she/her): Hello! I am a Visiting Assistant Professor in the Psychology Department. I'm a developmental psychologist (i.e., I study child development 🙂 and I teach Introductory Psychology, Developmental Psychology, and Biopsychology. My favorite part of teaching is having discussions with students about how psychology shows up in our lives. When I'm not teaching I love going to sporting events with my husband, eating at my favorite Winston-Salem spots, and going for walks on the trails at Reynolda. I'm so excited to be involved in Project Wake 2023 and look forward to meeting you all!
Author: George Saunders
Discussion Leader: John Welsh
Description
George Saunders is many things. One of America's greatest living fiction writers. A master of the short story. A dedicated and thoughtful prose craftsman. Truly, deeply, and consistently funny. But, for me, his greatest attribute is his ethical vision, which dovetails nicely with this year's theme for Project Wake. Nearly every Saunders protagonist explores the relationship between self and Other, and nearly every story aims to question the validity of that very division. Saunders offers a critique of modern existence in which, paradoxically, the world is condemned while every character is forgiven, understood, seen, and valued. Saunders once famously quipped that each of us is born with a series of "built-in confusions": (1) that we are central to the universe (2) that we are separate from the universe and (3) that we are permanent. In Tenth of December, one of his most popular short story collections released in 2013, each story aims to shatter these misconceptions, a necessary hurdle along the journey to becoming one's self and engaging with others.
Discussion Leader Bio
John Welsh: I teach beginning and intermediate Italian language classes at Wake Forest. I try to participate in Project Wake every year as a small way to honor the memory of my father, who loved books of all kinds. Junior Elisabeth Rollins – also a voracious reader – will be joining the discussion group.
Author: Benjamin Franklin
Discussion Leader: Jake Ruddiman
Description
This amazing little book is part history, part self-help text, and part philosophical treatment of our obligations to ourselves and to society. For Franklin, "Becoming Yourself and Engaging Others" meant a pursuit of usefulness and improvement. Come read how Franklin creates himself as a young man — through his education, his relationships, his constant efforts at (occasionally) humble self-assessment and (consistently) impressive self-improvement. He mixes it all together into a compelling story that people have taken as a touchstone for two centuries. Read and come join us!
Discussion Leader Bio
Dr. Ruddiman: I am a professor in the History Department who teaches courses on Colonial and Revolutionary America.
Author: Dr. Bessel van der Kolk
Discussion Leader: Jes Bolduc
Description
Content warning: The book discusses events and topics that could be triggering or upsetting, including topics like 9/11, sexual assault/abuse, war, etc.
Trauma can stem from abuse to a severe car accident to wartime combat, causing a lifetime of chronic issues like flashbacks, nightmares, insomnia, rage, hypervigilance, and physical ailments. Trauma can be inherited and can be systemic (racism, diaspora, poverty). Once in these trauma loops, it can be extremely difficult to break free. Trauma science is studying the long term impacts of trauma on the brain and body.
In this book, pioneer of trauma science research, Dr. van der Kolk discusses the bodily effect or somatic memory that trauma causes and how this rewires a brain completely. Traumatized folks have less active imaginations, lower creativity, chronic pain, trouble forming lasting attachments, and many other issues that can persist long after the trauma is over, yet, increases the likelihood for more trauma. What I love about this book, though, is the thread of hope throughout it championing somatic healing modalities (i.e. ways to reprogram your mind through your body in order to heal yourself) that can help the body release its memory, freeing the mind along with it. Some of these somatic modalities include dance and yoga, for example. We will discuss the book with focus on how to heal!
Discussion Leader Bio
Dr. Jes Bolduc: I am an Assistant Teaching Professor in the Department of Chemistry who teaches Biochemistry and Molecular Biology as well as Organic Chemistry. I also have artistic practices that explore network theory, systems thinking, queer theory, and the body as a lens.
Author: Eliot Schrefer
Discussion Leader: Timothy Gitzen
Description
Queers in space! This queer science-fiction young adult novel is about forming relations with those who are different–politically, racially, and economically. It focuses on two young men on a spaceship as they learn of the other's presence and must work together to reach their destination amidst malfunctions, threats, and radical surprises. The book not only explores how relationships are formed in difference, but also questions, at a fundamental level, what it means to be human, to love, and to exist. What better metaphor for starting college than being stuck on a spaceship with someone you don't even know? Let's face it, we are all on this spaceship hurtling through empty space together. The question is: what will you make of your time in space?
Discussion Leader Bio
Dr. Timothy Gitzen: I am an assistant professor in the Department of Anthropology. As a relatively new faculty member, I know quite well the feeling of navigating the deep space of Wake Forest. As a cultural anthropologist, I work on topics of queer politics, sex education, and the more-than-human world we inhabit. This book, in particular, acts as a prelude to my Fall 2023 course "Cyborg Anthropology" that asks, fundamentally, what it means to be human today as we move closer to the singularity and environmental destruction?
Author: Audrey Blake
Discussion Leader: Colleen Foy
Description
This book merges art and medicine by telling the story of an orphan girl groomed into an unofficial – very unofficial for the 19th century – surgical resident. She finds herself in the middle of a controversial procedure and at the crossroads of determining whether or not to take credit for her own work or remain in the shadow of her mentor. This book will spark discussion on not only the valuable place for women in science but also the supportive roles required of men as allies for women in science. We will have the chance to acknowledge the historical perspectives of developing into the many roles we play, applying those perspectives to becoming our own selves, and how engaging with peers will afford us opportunities solitary work may not.
Discussion Leader Bio
Colleen Foy (she/her): I am the Research & Instruction Librarian for the Sciences at the Z. Smith Reynolds (ZSR) Library. I support Biology, Chemistry, and Health & Exercise Science students and faculty. Health science fascinates me! Whether they are fiction or nonfiction, historic or modern, health science stories spark meaningful conversations and ones that apply to our ongoing wellbeing. I am so excited to discuss The Girl in His Shadow with you!
Author: John V. Petrocelli
Discussion Leader: John V. Petrocelli
Description
Today, the world is awash with misinformation, disinformation, fake news, hoax news, inaccurate news, spin and deception. A common thread through each of these sources is a pervasive and insidious communicative substance that we commonly call bullshit—which is not just a cutesy or provocative word—but now a technical term used in philosophy and psychology to signal that something has been communicated without regard for truth, evidence, or what we call semantic, systemic, logical, or empirical knowledge. The worst outcome of bullshit communications is bad decision making. In my research as an experimental social psychologist, I've found a very big problem: we all think we know bullshit when we see and hear it. The reality is, we really do not, and that's why a surprisingly and disturbingly large percentage of really smart people still believe that storing batteries in the freezer will improve their performance, that you can see the Great Wall of China from space, or that perhaps there are medicinal qualities to Clorox and other household, disinfectant cleaners. In The Life-Changing Science of Detecting Bullshit, I propose that bullshit is much more than just an insult and its detection is bigger than our common sense of it.
Discussion Leader Bio
John Petrocelli: I am a Professor of Psychology. More specifically, I am an experimental social psychologist who studies social cognition (i.e., how people select, interpret, remember, and use social information to make judgments and decisions about themselves and the social world), with a special focus on bullshitting and bullshit detection, attitudes, persuasion, and judgment and decision making. I teach a capstone course for majors in psychology entitled "Contemporary Issues in Psychology: Bulls#!ting and Calling Bulls#!t" and frequently lead discussions about the problems with bullshit and how to detect and combat it. I'm eager to think more with you about this topic.
Author: Matt Haig
Discussion Leader: Stephanie Hudson
Description
The Midnight Library by Matt Haig is a captivating novel with a simple yet fantastical premise that takes the reader on an existential journey, examining the endless possibilities of life that can exist in a world full of contradictions, and exploring what makes life meaningful and fulfilling.
"Somewhere out beyond the edge of the universe there is a library that contains an infinite number of books, each one the story of another reality. One tells the story of your life as it is, along with another book for the other life you could have lived if you had made a different choice at any point in your life. While we all wonder how our lives might have been, what if you had the chance to go to the library and see for yourself? Would any of these other lives truly be better?"
For students making the transition from high school to college, life's uncertainties can often become overwhelming. Many are on their own for the first time, faced with countless decisions, big and small, discovering who they are, and who they want to be. At the same time, they're faced with social media's depiction of the seemingly "perfect" lives of celebrities, influencers, and even their friends which, in some cases, may cause them to second guess themselves or fall down the rabbit hole of "what if" thinking. What if I had decided to forego college and focus on my acting/music/athletic career? What if I choose the wrong major? What if I had taken this class with a different professor? Meanwhile, others may find themselves trying to fit into the mold of what someone else wants them to be. A visit to The Midnight Library may be just what they need to discover that, "In becoming everyone, you are becoming no one."
The Midnight Library delves into themes of mental health, restlessness, disappointment, and regret, but it's also a story of hope, self-acceptance, human capacity, and the importance of connecting with other people.
Please note that this book has trigger warnings for suicide, cancer, death, drugs, alcohol, and depression. The author writes from lived experience, and readers should be aware that those topics are discussed openly in the book.
Discussion Leader Bio
Stephanie Hudson: A graduate of Wake Forest and a Winston-Salem native, I am a communications professional with 20+ years experience in strategic communications planning & implementation, and I now work in the Office of the Provost as both a writer and communications strategist. In my role, I don't have the privilege of working with students on a daily basis, so I'm really looking forward to this opportunity to connect and engage with our newest Deacs and discuss this insightful, intriguing novel.
Author: Dr. Holly Rogers
Discussion Leader: Tim Auman
Description
In The Mindful Twenty-Something, the cofounder of the extremely popular Koru Mindfulness program developed at Duke University presents a unique, evidence-based approach to help college students make important life decisions with clarity and confidence. The meditation practices in this book will also help the reader find calm, get better sleep, and manage stress. The Mindful Twenty-Something gets right to the techniques so you can enjoy meditation's immediate effects.
Discussion Leader Bio
Tim Auman: I am the chaplain of Wake Forest University in Winston-Salem, N.C. I am also the founder and director of the WFU MindfulWake initiative. An ordained United Methodist minister with years of experience in the local church, campus ministry, chaplaincy, spiritual direction, and mindfulness education, I bring a deep interest in the transformative wisdom of the Christian contemplative tradition, trauma-informed mindfulness practices, earth-based spirituality, and interreligious/interspiritual approaches to spiritual health. I am ordained in the Plum Village Tradition of Engaged Buddhist, founded by Zen Master Thich Nhat Hanh. I am a certified teacher and trainer with the Center for Koru Mindfulness in Durham, NC. I also teach class in contemplative photography (Nalanda Miksang) at the Sawtooth School for Visual Arts in Winston-Salem. I live with my partner, Heidi, and we have four amazing children, Addie, Micah, Noah, and Jonathan.
Author: Dr. Holly Rogers
Discussion Leader: Sarah Moore
Description
Transitioning to college, while exciting and energizing can also be stressful and lonely. This book is either a wonderful introduction to the powers of mindfulness practice in your life or a continuation of your current practices. While anyone can benefit from the book, it focuses on the experiences and needs of traditional college students. You will learn so much from the book and leave this session with resources that will help you manage your stress as you begin your college journey. Join me in exploring this powerful practice.
Discussion Leader Bio
Dr. Sarah Moore: I am the Assistant Teaching Professor, Department of Counseling, teaching students on both the graduate and undergraduate level to incorporate mindfulness into their lives and to share with their future clients/customers/supervisees. I am finishing my 4th year at WFU. I have 3 children, one of which just graduated from college, and a husband. I am always eager to share the benefits of mindfulness with others.
Author: Ray Nayler
Discussion Leader: Paul Jones
Book description:
DIANIMA, an international corporation more powerful than most governments, has purchased and sealed off the remote Con Dao Archipelago for unknown reasons. They dispatched cephalopod expert Dr. Ha Nguyen to the islands with no instructions on what she'll find or why she's going. Her team consists only of a battle-scarred cyborg security agent and the world's first android, who may or not be defective.

Upon arrival, Dr. Nguyen is presented with a recently discovered species of octopus that may have developed language. As Dr. Nguyen and her team struggle to communicate with the newly discovered species, forces larger even than DIANIMA close in to seize the octopuses for themselves.
Who will control this momentous discovery?

No one asked the octopuses what they think.
The Mountain in the Sea is a tense thriller that explores issues ranging from labor law to ecology. At its heart is an examination of the nature of consciousness, humanity, and how/if the two concepts are necessarily related.
Discussion leader bio:
Paul Jones (he/him): I am an Associate Professor of Chemistry. I've been in the Department of Chemistry for 23 years, teaching classes in organic chemistry at the undergraduate and graduate level. Only once since I've been at Wake Forest has an octopus grabbed my face. But I wonder about consciousness constantly.
Author: Kelly Barnhill
Discussion Leader: Alicia Lemar
Description
This book is a powerful reminder of the way the world can change when we show kindness and grace to our friends and neighbors. Through the eyes of an Ogress and a smattering of orphans, we read about the consequences of extreme selfishness and polarization in what was once a close-knit community, but we also are given the gift of hope through the love and kindness of the main characters. We are able to really see how things can change when we make the effort to care about others.
Discussion Leader Bio
Alicia Lemar: I am the education librarian in the Department of Education, and I run a small library in the basement of Tribble Hall. I love reading middle grade and young adult fiction, and I'm excited to share a book that I really love with you.
Authors: Ian Morgan Cron and Suzanne Stabile
Discussion Leader: Matt Clifford
Description
The enneagram is a mystical, engaging, and fun way to know about who you are and how you interact with others. As opposed to personality tests, the enneagram is best understood through study and self-reflection. As you begin your college journey, it is critical to stop and consider who you are, what motivates you, what happens when you are stressed and how you get back on track. Join me and others as we dig into the nine enneagram types and how we navigate the world around us.
Discussion Leader Bio
Dr. Matt Clifford: I serve as Assistant Vice President for Campus Life and work closely with residence life and housing, campus recreation, and orientation. In my role, I help students find community with one another and create a home here at Wake Forest. I've been studying the enneagram for a number of years and am pretty sure I'm a 9… or maybe a 1.
Author: Erin Morgenstern
Discussion Leader: Kayla Lisenby-Denson
Book description:
Zachary Ezra Rawlins is a graduate student in Vermont when he discovers a mysterious book hidden in the stacks. As he turns the pages, entranced by tales of lovelorn prisoners, key collectors, and nameless acolytes, he reads something strange: a story from his own childhood. Bewildered by this inexplicable book and desperate to make sense of how his own life came to be recorded, Zachary uncovers a series of clues—a bee, a key, and a sword—that lead him to a masquerade party in New York, to a secret club, and through a doorway to an ancient library hidden far below the surface of the earth. What Zachary finds in this curious place is more than just a buried home for books and their guardians—it is a place of lost cities and seas, lovers who pass notes under doors and across time, and of stories whispered by the dead. Together with Mirabel, a fierce, pink-haired protector of the place, and Dorian, a handsome, barefoot man with shifting alliances, Zachary travels the twisting tunnels, darkened stairwells, crowded ballrooms, and sweetly soaked shores of this magical world, discovering his purpose—in both the mysterious book and in his own life. (via Goodreads)
Discussion leader bio:
Kayla Lisenby-Denson (they/them): I serve as the Director of the WFU LGBTQ+ Center. I've been at WFU since August of 2015 and started as the Program Coordinator for the LGBTQ+ Center; I'm also a 2021 graduate of the WFU MBA program. I'm passionate about creating spaces for folks to explore and become who they are or who they want to be and giving people tools to create environments and organizations that support and affirm people in all of the beautiful richness of their full selves. I also love all things whimsical (don't get me started about my HUGE Alice in Wonderland collection!) – and this novel definitely fits that bill!
Author: Karoline Kan
Discussion Leaders: Qiong Zhang and Nick Mauro
Description
If you consider it important to understand China's recent past, the fundamental structural issues that continue to affect Chinese society, the changing relationship of the Chinese people, especially the younger generation, towards their government, and the impact of globalization on this country's present, Under Red Skies is the one book you should read. Born in a poor rural village in northern China, Karoline Kan overcame tremendous odds to scale the ladder of success, graduating from a top university in Beijing and becoming a writer and reporter for several foreign news organizations including the New York Times. This book records her coming of age experience from the 1990s to the 2010s, capturing her rich and intimate observations of the world around her as well as her inner experiences of personal setbacks and triumphs during her brave quest for a dream career, true love, and self-worth. Most important of all, Kan shows herself to be an excellent model of someone who dares to be herself but who nonetheless strives to empathize with others who have chosen life paths, political ideologies, and worldviews different from her own. This book is accessible as an ebook via Wake Forest University ZSR Library.
Discussion Leaders Bio
Dr. Qiong Zhang: I teach courses on Chinese history and world civilization to 1500 and serve as coordinator of Wake Forest East Asian Studies Minor starting July 1, 2023. I look forward to meeting you and hearing what you think about this book!
Mr. Nick Mauro: I'm Nick Mauro, a rising sophomore studying Mathematical Economics who loves playing sports, chess, and video games in my free time.
Authors: Paul Kalanithi
Discussion Leader: Brian Calhoun
Description
This is the fourth Project Wake that I used this text. With the themes of identity and community at the core of our discussion this year (Becoming Yourself and Engaging with Others) — being identified as a helper is at the forefront. Our front line medical personnel and professionals have risen to the task of helping those who have medical ailments and illnesses during this turbulent time. We recognize the sacrifice that medical professionals and their families must endure to pursue their calling (identity) and help be the professional healers of their respective communities. The text also looks at medical ethics, mortality, and choice. I look forward to meeting you, and discussing the text and what it means to be a helper and engaging with others.
Discussion Leader Bio
Brian Calhoun: I teach in the Department of Education, and serve as a senior faculty fellow in South Residence Hall. I am an alum of Wake Forest, and I know how meaningful the first year on campus can be. I appreciate the opportunity to work with you and help with your transition to college.
Authors: Lulu Miller
Discussion Leader: Erin Branch
Description
Part biography and part memoir, Why Fish Don't Exist is the story of David Starr Jordan, a ichthyologist taxonomist famous for discovering hundreds of species of fish and for being the founding president of Stanford University. He once lost his entire life's work in an earthquake, but (literally) picked up the pieces of his collection and started over, inventing new and better systems and protocols for protecting his research. Peabody Award-winning science reporter Lulu Miller, an original producer of Radiolab, narrates his story alongside her own coming of age as a daughter, reporter, and partner. The book chronicles Miller's exciting yet ultimately devastating discoveries about Starr Jordan, even as she uncovers challenging aspects of her own identity.
Discussion Leader Bio
Erin Branch: I have taught writing and rhetoric courses at Wake Forest since 2011. I direct the Writing Program and interdisciplinary writing minor. I love using stories like this one to connect with new students on campus.
Author: Julie Smith
Discussion Leader: Gia Lee
Description
Filled with secrets from a therapist's toolkit, Why Has Nobody Told Me This Before teaches you how to fortify and maintain your mental health, even in the most trying of times. Dr. Julie Smith's expert advice and powerful coping techniques will help you stay resilient, whether you want to manage anxiety, deal with criticism, cope with depression, build self-confidence, find motivation, or learn to forgive yourself. Why Has Nobody Told Me This Before tackles everyday issues and offers practical solutions in bite-sized, easy-to-digest entries which make it easy to quickly find specific information and guidance.
Your mental well-being is just as important as your physical well-being. Packed with proven strategies, Dr. Julie's empathetic guide offers a deeper understanding of how your mind works and gives you the insights and help you need to nurture your mental health every day. Wise and practical, Why Has Nobody Told Me This Before might just change your life.
Discussion Leader Bio
Gia Lee: I am a dog mom and wife to the best little family. I am the Assistant Director of Residential Conduct, and I work with North Campus populations. I believe that college comes with many lessons that we never talk about and it is time we do! I am excited to dive into this book with you all to learn the many lessons life has to offer after leaving "home".
Author: Robert Pirsig
Discussion Leader: Amanda Jones
Description
In this book, Robert Pirsig tells of the summer motorcycle road trip he took with his son. In telling, he reflects on the meaning of quality and the frequent challenges in recognizing it when supposedly conflicting ideals are part of the assessment. A constant theme running throughout is the tension between science and technology versus art, religion and the humanities. Whereas the former may be viewed by many as embodying some of the uglier characteristics of life (pragmatic but soulless), the latter is seen to have more obvious appeal (beautiful and inspiring). The further along in life I get, the less I feel this either/or division makes any sense, but ZAMM nevertheless stands as a great monograph on reflection, motivation and self-improvement. How best should we live? Within ourselves and with others?
Discussion Leader Bio
Amanda Jones: I read this book as a sophomore in college after my dad gave it to me as a gift. I had just declared Chemistry as my major and was thrilled to begin embarking on a path of scientific research and exploration, but I was also anxious about the many things I felt I was leaving behind. I was also, naturally, anxious about doing well. This book helped me to think about my motivations. It helped to me to recognize that the process of achieving quality is a life-long process. I read this book again in 2016 for Project Wake, and it feels like the world has changed many times over even since then.