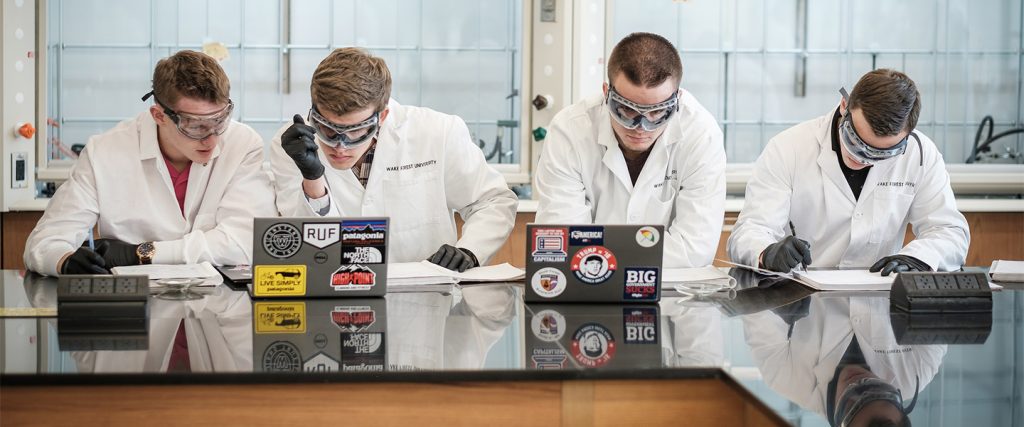 If you crave a complete change of scenery from the Quad's Georgian architecture, grab your scientific calculator and safety goggles and hop on a shuttle bound for Wake Downtown. Located in Innovation Quarter in the heart of Winston-Salem, Wake Downtown is where tradition meets innovation as engineering, the sciences, the arts and the humanities cross paths inside high-tech labs and classrooms.
Students enrolled in the engineering and biomedical sciences programs at Wake Downtown are immersed in an active, roll-up-your-sleeves learning environment. Experiential learning normally reserved for graduate-level study is the cornerstone of these undergraduate opportunities.
Wake Downtown's innovative, interdisciplinary space also houses courses in the arts and humanities alongside our new anchor programs in engineering, biochemistry and molecular biology, and medicinal chemistry and drug discovery.
To provide our Wake Downtown students with every advantage, we set up shop right next to the Wake Forest School of Medicine facilities — not only to give our undergraduates proximity to those labs and research spaces, but to increase collaboration with the School of Medicine faculty as well.
Classes aren't the only thing happening downtown. There is life outside the lab, and we've made having fun very convenient. When your brain reaches capacity, we suggest you fill up your senses at an art gallery, outdoor concert or unique downtown eatery.
---
B.S. in Biochemistry and Molecular Biology
Students explore the chemical principles that define life with this interdisciplinary degree offering from the departments of chemistry and biology. Understanding growth, development, reproduction and genetics begins with the study of living organisms at the biochemical, molecular and cellular levels. Faculty and students use a highly engaged, hands-on approach to learning to develop practical skills for addressing today's complex biochemical, molecular biological and biomedical challenges. Emphasizing research that employs analytical and quantitative methods along with high-resolution imaging, this major provides a strong foundation in chemistry and biology. Undergraduates partner with faculty mentors for at least two semesters and/or summers of research, culminating in a senior research project.
---
B.S. in Engineering
This bachelor of science program is innovative and hands-on, just like a good engineer. It offers a comprehensive and fully immersed technical education with a firm academic grounding in the liberal arts. With Wake Forest's unsurpassed student-faculty engagement and real-world learning opportunities, the curriculum extends beyond that of a typical undergraduate engineering program.
---
Concentration in Medicinal Chemistry and Drug Discovery
Discovery is for people who love a challenge as much as they love learning. Leveraging the strength of the chemistry department's research program, Wake Forest now offers a concentration in medicinal chemistry and drug discovery, providing a new avenue to earning an American Chemical Society certified B.S. degree. With the goal of identifying new therapeutic agents, faculty engage students in an in-depth study of the connections between chemical structure and biological function. This concentration is ideal for students interested in health-related fields, biomedical sciences and pharmacology.