Main Content
NOTE: All information on this site is for the Class of 2023. Information for the Class of 2024 (who will move in August of 2020), will go live on May 1st. 
Meet the cast of your next four years.
Durin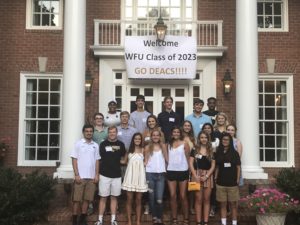 g the summer, New Student Receptions will be held across the country so new students and their parents/families can meet each other as well as current students and staff. You may attend the reception(s) that is most convenient, whether it is in your hometown or elsewhere (attendance at more than one is certainly permitted). Preregistration is required.
Please check the website frequently as new dates and locations will be added.

Once event details are finalized, the city name will be linked to an RSVP page for that event.
Dates and locations are subject to change, and registration may be closed if we reach maximum capacity.
2019 New Student Receptions
Atlanta, GA
Baltimore, MD
Berwyn, PA (Philadelphia area)
Charlotte, NC
Chicago, IL
Dallas, TX
Denver, CO
Greensboro, NC
Greenwich, CT
Houston, TX
Larchmont, NY
Los Angeles, CA
Miami, FL
Nashville, TN
Needham, MA
New York, NY
Piedmont, CA
Ponte Vedra Beach, FL/Jacksonville area
Potomac, MD
Raleigh, NC – June 30 and July 29 (choose the one that best meets your schedule)
Tampa, FL
Washington, DC
Wilmington, NC
Winston-Salem, NC
General WFU receptions (open to all WFU alumni, parents, and friends)
Nantucket, MA
Southampton, NY
Top 10 Reasons to Attend a New Student Reception
Meet other incoming students and families from your area. (You are welcome to attend multiple receptions!)
Meet current students and build your WFU network.
Learn more about how to get your best start at Wake.
Make a connection with the Office of Family Engagement and other WFU staff.
Have your specific questions answered.
Score a WFU '24 keychain (students).
Get a Wake Forest Parents static window cling for your car (parents/families).
Feel less anxious about starting school because you will have met some great people in advance.
Be warmly welcomed into the Wake Forest family.
Get excited about the next 4 years at WFU!
OFFICE OF FAMILY ENGAGEMENT
Website: parents.wfu.edu
Phone: 336.758.4237
Email: parents@nullwfu.edu
LOCATION
Alumni Hall
SOCIAL
WAKE FOREST PARENTS AND FAMILIES
@WFUPARENTS
BLOG
The Daily Deac