NOTE: the information on this website was for students entering Wake Forest in fall 2018. Information for the Class of 2023 (who will be entering in fall 2019), will be available at the beginning of May 2019.
Meet the cast of your next four years.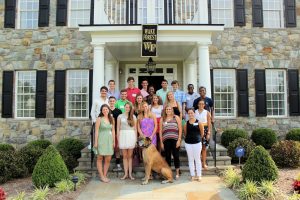 New Student Receptions
During the summer, New Student Receptions will be held across the country so new students and their parents/families can meet each other as well as current students and staff. You may attend the reception that is most convenient, whether it is in your hometown or elsewhere. Preregistration is required.
Please check the website frequently as new dates and locations will be added. Once event details are finalized, the city name will be linked to an RSVP page for that event. Dates and locations are subject to change, and registration may be closed if we reach maximum capacity.
Alexandria, VA – TBD
Atherton, CA – July 25
Atlanta, GA – August 4
Bryn Mawr, PA – July 11
Charlotte, NC – TBD
Chicago, IL – TBD
Dallas, TX – June 27
Denver, CO – TBD
Greensboro, NC – TBD
Greenwich, CT – TBD
Houston, TX – TBD
Larchmont, NY – July 9
Manhasset, NY – June 23
Miami, FL – June 15
Nantucket, MA – July 26
Nashville, TN – August 15
Needham, MA – July 18
Palm Beach, FL – June 23
Ponte Vedra Beach, FL – June 13
Potomac, MD – TBD
Raleigh, NC – TBD
Tampa, FL – July 30
Washington, DC – June 20
Wilmington, NC – August 3