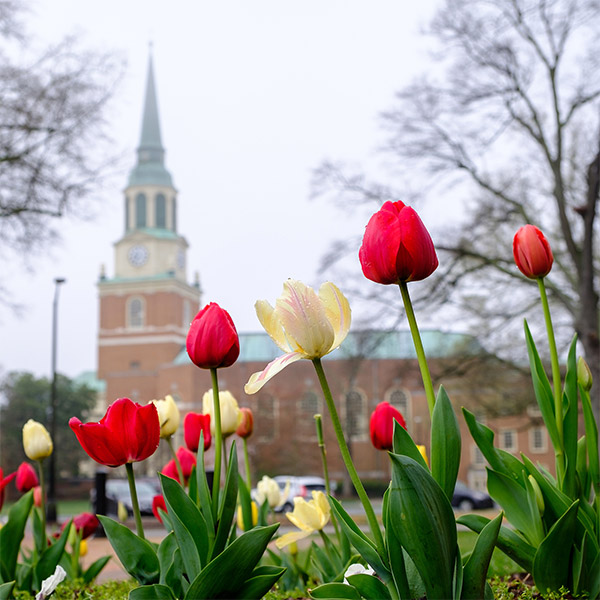 NOTE: the information on this website was for the Class of 2026, who started at Wake Forest in August 2022. Information for the Class of 2027 will be available in May 2023.
Use a pencil, not a pen.
If we've learned anything during the pandemic, it's been the importance of flexibility amid changing circumstances. Dates in emails and on websites are accurate at the time of publication, but the University will adapt to any changing conditions as needed. When making travel plans, please remain flexible and be aware of hotel/airline change policies when making reservations.
We recommend that you visit this page regularly for the most updated information, as new items may be added.
---
Mark your calendar.
Pay close attention to the dates below. A link for more information is provided in each row where an action is suggested or required on your part.
Type
Date
Description
Action
FYI
May 2
New Student website goes live. Visit often throughout the summer, as new information is continually added. Pay special attention to the Parents & Families section.
» Explore the site
https://newstudents.wfu.edu/
To-Do
By May 31
Schedule any needed vaccines for your student. The Health Information and Immunization Form is due July 1.
» Download the form
https://prod.wp.cdn.aws.wfu.edu/sites/93/2022/04/2022-23-WFU-HIIF-Form-1.pdf
FYI
By May 31
Make lodging reservations for Family Weekend (October 7-9); while hotels are an option, many families consider Airbnb, VRBO, etc.
» Visit the Family Weekend website
https://familyweekend.wfu.edu/
FYI
June
Consider making

flexible

hotel reservations for Move-In. Please be aware of the following dates:

—

August 12 or 14

: Move-in for students enrolled in optional Pre-Orientation programs (Your student's approved arrival date will be communicated directly to them by the Office of Residence Life and Housing).

—

August 17

: New Student Move-in Day (For those students who are not attending Pre-Orientation)



Note: If you make hotel or airline reservations now, be aware that you may need to adjust them once your student finds out if they have been accepted to a Pre-Orientation program. Students will be notified in batches between June 6 and July 8th. You may want to delay making arrangements (or make easily changeable plans) until your student's move-in day is confirmed.

» View preferred hotels
https://about.wfu.edu/visiting/hotels/
Due
June 1
Verify your family record in Wake Network. Please review your family record as soon as possible, and no later than June 1st. (Note that you can adjust the settings to HD and turn on captions in YouTube).
» Show me how
https://youtu.be/fRpgvUdmM5g
FYI
June 1
Ensure your student has a plan to have a laptop, as they are required. Starting June 1, new academic year WakeWare laptops will be available for purchase

online

(or in the Bookstore). If your student plans to bring their own laptop, be sure to check to see what the BYOD (Bring Your Own Device) requirements are.
» Purchase online
https://is.wfu.edu/services/wakeware/
FYI
June 1
Talk to your student about having them authorize you as a third-party payer on DEAC (Deacon Electronic Account Center). This allows you to receive notifications of tuition bills and other payments due (strongly recommended that all students authorize a third-party payer).
» Authorize on DEAC
https://finance.wfu.edu/students-parents/sfs/deacon-electronic-account-center-deac/
FYI
June
Sign up to attend a virtual New Student Reception on June 22 or July 20, and sign up for in-person New Student Receptions if one is offered in your area.
» More information
https://newstudents.pprd.wfu.edu/gettingstarted/new-student-receptions/
To-Do
June 22
Football tickets for Family Weekend will go on sale June 22nd. More information will be available closer to that date.
» More information
https://godeacs.com/index.aspx
To-Do
June 22
Put a reminder in your calendar for Family Weekend registration, which will open August 3rd (Family Weekend is scheduled for October 7-9).
» Visit the Family Weekend website
https://familyweekend.wfu.edu/
Due
July 1
Health Information and Immunization Form. This is required by the University and the State of North Carolina; the form must be on file for students to attend fall classes.
» Download the form
https://prod.wp.cdn.aws.wfu.edu/sites/93/2022/04/2022-23-WFU-HIIF-Form.pdf
FYI
July 1
Fall tuition notification is issued; Tuition must be paid by August 1
» More information
https://finance.wfu.edu/students-parents/sfs/payment-methods/
To-Do
By July 31
Determine if your student will register for the Zipcar program
» Zipcar information
https://www.zipcar.com/universities/wake-forest-university
To-Do
By July 31
Talk to your student about them granting you FERPA proxy access. This allows administrators to share information about grades or other aspects of your student's experience.
» FERPA proxy access info
https://registrar.wfu.edu/academic-records/
Due
August 1
Disabilities documentation (If applicable)
» More information
https://class.wfu.edu/
Due
August 1
Tuition is due. Third-party payers can log into (DEAC) to view statement; View payment options
» Log into DEAC
http://finance.wfu.edu/sfs/deac
Due
August 1
Submit the Health Insurance Enrollment/Waiver Form (you must enroll or waive coverage or you will be charged for WFU student insurance). Note: enrollment period begins July 1
» Health Insurance Enrollment/Waiver form
https://shi.wfu.edu/enrollment/
To-Do
August 2
Determine if you will ship items to campus. While this is not a formal deadline, you will want to allow enough time for any packages to be sent to campus in time for move-in.
» More information
https://newstudents.wfu.edu/life-in-the-forest/welcome-home/mail-services/
To-Do
August 3
Register for Family Weekend
» How to register
https://familyweekend.wfu.edu/
To-Do
August 12
Ensure your student has checked their account for financial holds and arrange payment if needed.
FYI
August 12 & 14
Move-in dates for students enrolled in Pre-Orientation Program (optional) Approved arrival date is dependent on the program and will be communicated directly to the student by the Office of Residence Life and Housing.
FYI
August 17
New Student Move-in Day (for those not attending Pre-Orientation session)
FYI
August 17-18
New Deac Week Parents & Families Orientation Sessions (strongly encouraged). For travel planning purposes, family orientation activities begin on August 17 and will conclude by 7:30 p.m. on August 18.
» Draft schedule (note: the final schedule will be released mid-July via the Guidebook app)
https://docs.google.com/document/d/1udKNhrVLPJ4ZP3FL9B_OtR9sqRUETpB6qRKKXRm8rQo/edit?usp=sharing5nZjofUPS0/edit?usp=sharing
Due
August 21
Deadline to enroll in tuition insurance
» Learn more about tuition insurance
https://finance.wfu.edu/students-parents/sfs/tuition-insurance/