Main Content
Here is a roundup of some general advice for parents and families of new students, and/or past web content that may be helpful.
Conversations to have with your student this summer – topics you might want to discuss with your Deac over the summer
Course registration advice — the New Students website has specifics about curriculum requirements as well as the advising process and planning for course registration.
Grade expectations – how to have realistic expectations on grades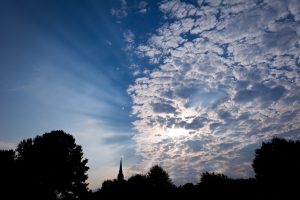 Advice from parents of sophomores, juniors, and seniors:
Academics – making sense of course schedules and workload
Social or campus life – getting involved, making friends
Logistics – Move-In, air travel, letting go, and more
Wake Wash – You may want to consider giving your student the gift of Wake Wash – a laundry service run by our own WFU student entrepreneurs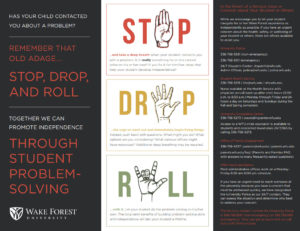 One of the best ways you can help your Deac get ready for college is to let them be independent: let your student make their own plans, determine best solutions, solve their own problems, rather than you providing directions or answers. We strongly advocate parents and families use the Stop, Drop, and Roll method if your student contacts you with a problem;  read more about why this is so important.
The Stop, Drop, and Roll flyer also lists contact information for serious concerns where family intervention might be appropriate.
Also see our Parents and Families FAQ (Frequently Asked Questions page). If your question is not answered there, contact the Office of Family Engagement at parents@nullwfu.edu or 336-758-4237.