This website contains information for students in the Class of 2025, who started school in August 2021. Information for the Class of 2026, who will begin in August 2022, will be available starting May 1.
Here is a roundup of some general advice for parents and families of new students:
Orientation videos: Just for Parents and Families Part I: What to Do Before School Starts. This video offers some tips on conversations your family might want to have before school begins, and some other transition tips. (You can toggle on the Close Caption function if you wish).
Conversations to have with your student this summer – topics you might want to discuss with your Deac over the summer
Know your roles – how to understand what students are responsible for vs. parents and families.
Course registration advice — the New Students website has specifics about curriculum requirements as well as the advising process and planning for course registration
Grade expectations – how to have realistic expectations on grades
Being a college student during COVID – what to expect, and how to make the most of it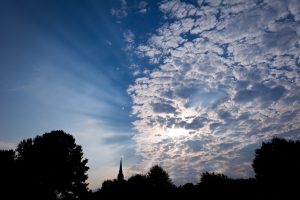 Advice from parents of sophomores, juniors, and seniors – learn from the experts who have been there, done that. NOTE: Use the next frame button to advance from page to page.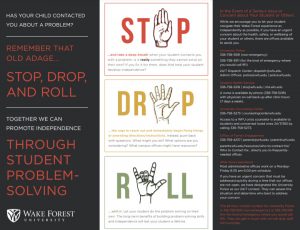 One of the best ways you can help your Deac get ready for college is to let them be independent: let your student make their own plans, determine best solutions, solve their own problems, rather than you providing directions or answers. We strongly advocate parents and families use the Stop, Drop, and Roll method if your student contacts you with a problem; read why this is so important.
Also see our Who to Contact for… page if you need to contact an office for assistance during normal business hours. If your question is not answered there, contact the Office of Family Engagement at parents@nullwfu.edu or 336-758-4237.
If you have an urgent concern after hours that cannot wait until the next business day, see our After Hours Help page for guidance.