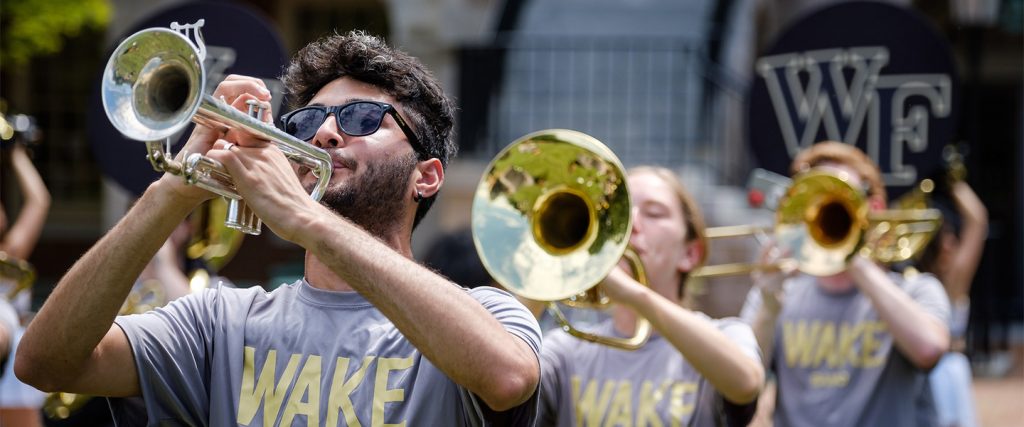 About Marching Band Camp
For those of you with instrumental music experience, one of the best ways to be a part of the high-profile athletics scene is to join the Spirit of the Old Gold and Black Athletic Bands.
Our mission is to provide spirit, energy and entertainment to the game day atmosphere. Your involvement in SOTOGAB will give you an "up close" view of Demon Deacon football and basketball while allowing you the opportunity to continue using the musical skills that you have developed over the years.
Band is family. When you join SOTOGAB, you will find that your closest friends during your undergraduate experience will be your SOTOGAB brothers and sisters. We enjoy making music together, and we love to support the DEACS as they compete on the field and on the court.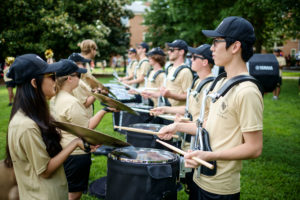 Marching Band Camp serves as "pre-season training" for the Spirit of the Old Gold and Black Athletic Bands as they prepare to entertain audiences at Demon Deacon football and basketball games. Membership is open to anyone with previous playing experience, and no audition is required to join SOTOGAB. We have a place for you! Marching experience is preferred but not required.
Participation in marching band camp includes your semester long commitment to participate in Tuesday/Thursday rehearsals, football games throughout fall semester, travel to selected football road games and the bowl game at the end of football season.
Program Details
Date: TBA
Sponsored by: SOTOGAB
Application Deadline: June 30