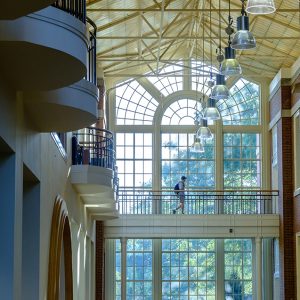 Your Portal To Infinite Knowledge.
Z. Smith Reynolds Library, fondly referred to as ZSR, is the main library on campus and provides a host of services to help you succeed. Through the ZSR website, you can access millions of books, thousands of journals and DVDs, and hundreds of research databases. You can reserve one of our 10 group study rooms or request a personal research session with a subject specialist. The Reference Desk on the fourth floor of the Wilson Wing is your place to go to learn how to use the library and its resources. ZSR offers a 1.5-credit elective course (LIB 100) that teaches you how to find, evaluate and use information. In addition, it maintains a host of online research tools, including citation guides and subject guides, explained in detail online.
Be on the lookout for some signature events sponsored by and hosted in ZSR that have become traditions at Wake Forest, including Wake the Library and the Dean's List Gala!
ZSR is open 24 hours a day Sunday through Thursday. On Fridays and Saturdays, the library closes at 7 p.m., but the two-story, 24-hour room right near the front entrance of ZSR across from Starbucks is always open.