Contact Info
---
336.758.5902

Location
---

Hours
---
Monday—Friday
8:30 a.m.—5 p.m.

Mailing Address
---
Winston-Salem, NC 27109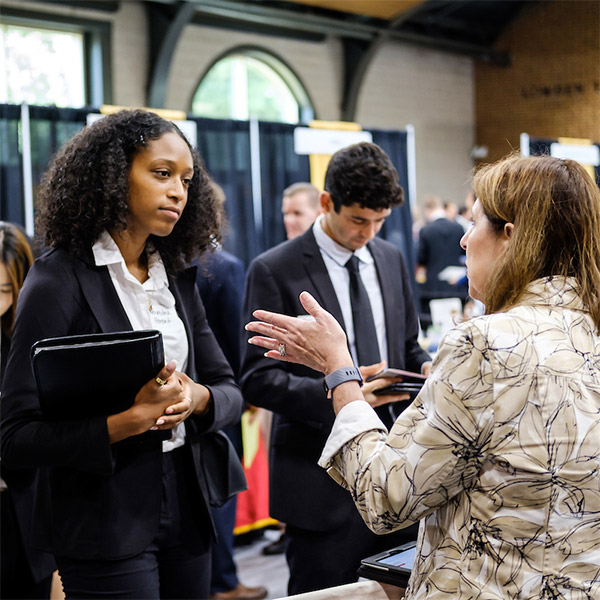 College-to-career starts here.
The Office of Personal and Career Development (OPCD) will help you navigate the college-to-career process and get started on the right track from your first days on campus. Whether or not you know what you want to study or where you'd like to work or go to grad school, we can help you. If you ever change your mind, we're here for you… while you're a student and even after you've graduated.
Be sure to check out the half-semester career courses offered by the OPCD and Wake Forest's academic department of education. It's the best way to build your career readiness knowledge and confidence – from clarifying your choice of major to securing great internships to finding a full-time job or getting accepted to graduate school… and you'll earn 1.5 units of credit!
To get started, go to the OPCD website and use Handshake to schedule a career appointment or attend a workshop. Or just stop by our office on the 2nd floor of Reynolda Hall for our afternoon drop-ins with no appointment required. It's never too early to get career ready! 
---
Get ready, stay ready. For life.
We can help you craft your unique, individual goals, and personal journey so that you are prepared for whatever adventure awaits when you leave the Forest. Explore the boundless possibilities — across majors, grad schools, careers, and more — and take advantage of our resources and connections to help you flourish in work and life. We've developed a career readiness model called READY7, that you can use to master the 7 steps to be well-prepared for life after college.
There are so many ways to engage with us. Whether your end goal is employment, grad school, service, gap year, or anything else, we offer resume and personal statement reviews, career coaching, self-assessments, workshops, opportunities to meet, connect, and interview with all types of employers and alumni, experiential learning stipends, professional development grants, and much more.
To get started, visit opcd.wfu.edu or stop by our office in Reynolda Hall. We look forward to getting to know you and working with you!