Main Content
You're Among Friends.
The Forest is intentionally small so that the individuals who are drawn here will never be lost in a crowd or see themselves as anything less than a vital part of a true community. Wake Forest takes education personally. That means providing all possible means of supporting students in what can be an exhilarating yet stressful time in a young person's life.
We are committed to providing a vast network of support services and centers designed both to guide our students throughout their time at Wake Forest and provide outlets of individuality and commonality within a diverse environment rich in perspective, inclusion and open dialogue.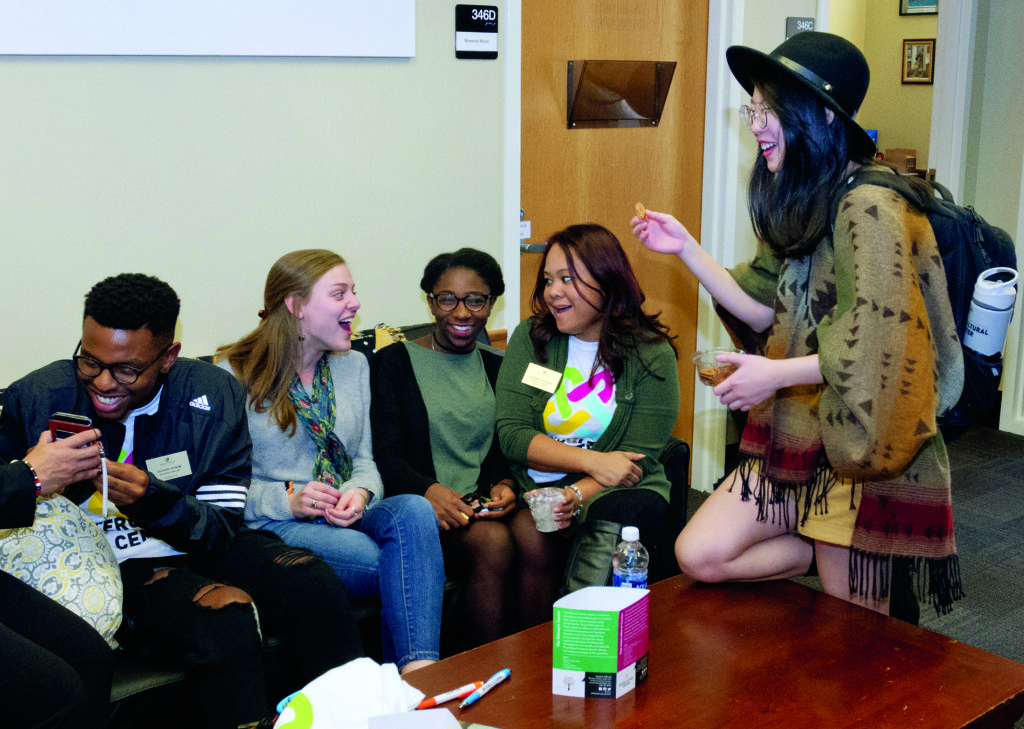 LGBTQ Center
The LGBTQ Center is committed to fostering a safe, equitable and inclusive experience for all. The center provides education, advocacy and support to the entire campus community around gender identity and sexual orientation. The LGBTQ Center offers regular events, office hours and discussion groups. See our website or stop by Benson 311 to learn more.
If you are an incoming student with questions or concerns about housing, resources or any  other aspect of the student experience, please contact Dr. Angela Mazaris, LGBTQ Center director, at mazarise@nullwfu.edu. Learn more at lgbtq.wfu.edu.
The Intercultural Center
The Intercultural Center (IC) is committed to enhancing the experience of domestic and international underrepresented groups by offering co-curricular programming, advising and advocacy that enhance intercultural knowledge, competency and leadership. By promoting a welcoming environment, we strive to uphold the Wake Forest mission of Pro Humanitate. The IC engages students through our Identity Development Initiatives, student support and engagement and our educational and social programs. Annual events include First Fridays, World Cultural Festival, Journeys to Success Lecture Series, Friday Morning Breakfast and the Dr. Martin Luther King, Jr. Celebration.
Come visit us in Benson 346 or learn more at interculturalcenter.wfu.edu.
Women's Center
The Women's Center strives to create an educational and professional environment that supports women and promotes gender equity. Our initiatives encourage students to explore gender as a critical component of their identities and experiences, from their interpersonal relationships to their postgraduate aspirations. We offer a range of opportunities, including discussion hours, workshops and enhanced student-faculty interactions. Some of our programs are designed as women-only spaces, but most of our initiatives are open to all members of our campus community. Come to the Women's Center in Benson 314 to learn more or to make new connections at Wake Forest. womenscenter.wfu.edu
Center for Global Programs and Studies (GPS)
At Wake Forest University, global learning experiences are an integral part of your education. Wake Forest has made global study and cross-cultural understanding a priority. The Center for Global Programs and Studies is your on-campus resource to assist with incorporating global learning opportunities into your academic experience. We offer more than 30 Wake Forest-administered study abroad/away programs and can provide information on our many affiliate program offerings. The International Student and Scholar Services (ISSS) division of GPS supports all international students, faculty and staff participating in programs at Wake Forest University. We strive to leverage our abroad, campus and outreach efforts to enhance the global campus community. Our goal is to provide the resources and support for all WFU students, staff and faculty to develop as global citizens and create a global campus community. Visit us in Reynolda Hall 116. global.wfu.edu.
The University Counseling Center (UCC)
The University Counseling Center provides confidential individual and group-based counseling and psychotherapy for a broad range of personal and interpersonal issues. Individual assessment and counseling for concerns related to alcohol and other drug use are also available. The Counseling Center offers outreach programs and consultation to students, faculty and staff, as well as referrals for off-campus mental health providers. For mental health emergencies outside business hours, the counselor on call can be reached 24/7/365 by calling the University Counseling Center at 336.758.5273.
All services are free to full-time Reynolda Campus undergraduate and graduate students. Contact with the UCC is confidential to the fullest extent provided by law. Appointments may be scheduled by telephone at 336.758.5273 or in person at Reynolda Hall 117. counselingcenter.wfu.edu
The Safe Office
The Safe Office provides confidential crisis response, ongoing support and prevention services to Reynolda Campus students for concerns related to interpersonal violence, including sexual misconduct, relationship violence, and stalking. The Safe Office is located on the ground floor of Reynolds Gym — down the hall from Student Health Service.  There is a private waiting room for students located in B104. For urgent matters, the helpline can be reached 24/7 during the academic year at 336.758.5285. For non-urgent appointments, email safe@nullwfu.edu or visit safeoffice.wfu.edu for more information.