Discussion Leader: Rosalind Tedford, ZSR Library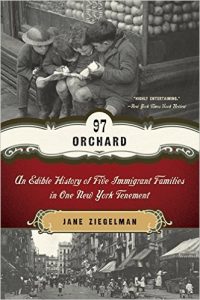 97 Orchard St. is the address of the New York Tenement Museum in New York City, and it's the address that gave the book its name. This book looks at the food traditions and culture of five immigrant populations that came to NYC in the late 19th and early part of the 20th Centuries. The cultures are German, Italian, Irish, and Jewish (both Orthodox and Reform) from Russia and Germany. The book looks at why they came to the United States, how they got here, and what food meant to them in their home cultures and in their new home in America. When I first read it I came away with newly opened eyes about historical events (like the Irish potato famine) and their impact on their home countries and the people who fled to find a new life in America. I also gained a newfound respect for the impact these cultures had on our country and especially on our own food cultures. With immigration being such a hot-button issue in this country, I hope this book will give us all the time and space to appreciate why people come to our country and how they impact us in innumerable ways once they are here. Oh, and I can't wait to make some of the foods from the book for us all to try!!
I am currently the Director for Research and Instruction at the ZSR Library at WFU, and I have a BA (English and Psychology) and a MA (English) from Wake. I always say that if I won the lottery I'd go to cooking school – not to own a restaurant, but to be able to cook great meals for my family and friends. I have always loved to cook and I love books about food, so that's why I'm excited to talk about 97 Orchard: An Edible History of Five Immigrant Families in One New York Tenement with students.