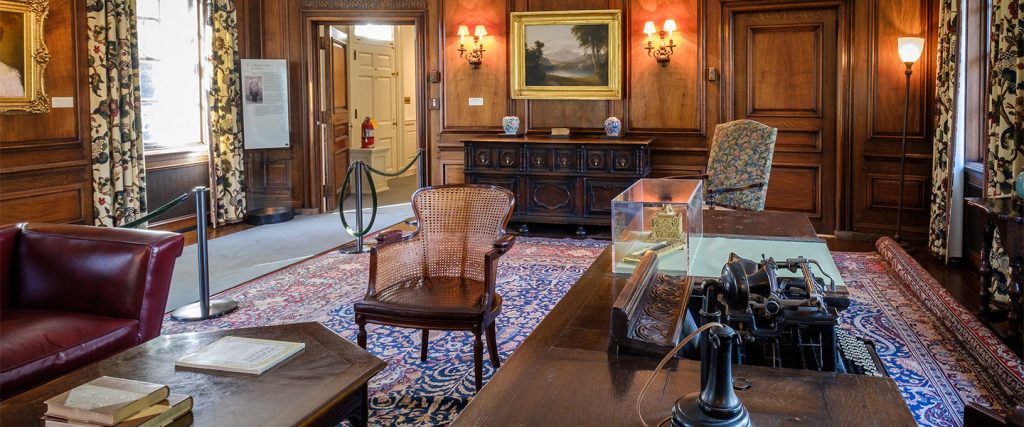 About the Reynolda House, Gardens & Village
The origins of your new Winston-Salem home can be found a few steps away at Reynolda, the former estate of Katharine Smith Reynolds and tobacco magnate Richard Joshua (R.J.) Reynolds. At Reynolda, you can find your new favorite lunch spot, boutiques and salons within walking distance, a peaceful lawn for studying under the sun and works of art that will inspire you for years to come. A visit to Reynolda in your first year is essential to understanding why the ground you walk on is called the Reynolda Campus.
Reynolda gets its name from the feminine of Reynolds, a nod to the estate's visionary Katharine. As a 1,067-acre working estate, Reynolda originally incorporated the main house now called Reynolda House Museum of American Art, formal and informal gardens known as Reynolda Gardens and farm buildings turned into the unique shops and restaurants of Reynolda Village. Wake Forest's Reynolda Campus rests on the land that was once farmland of the Reynolda estate. Reynolda is an easy quarter-mile walk from campus along the Reynolda Trail, a wooded, paved trail that connects to South Campus.
What Does Reynolda Offer?
Enjoy free admission to a renowned art museum and free or discounted Reynolda programs and events
Learn about nonprofits and arts leadership through an internship
Stroll the galleries with a date
Discover three miles of walking and running paths
Tie a hammock beneath the trees
Earn volunteer hours at the Museum
Grab a made-to-order doughnut and coffee
Become BFFs with an American masterpiece
Impress your parents with a self-guided museum tour
Find inner peace through meditation or a walk in Reynolda Gardens