Main Content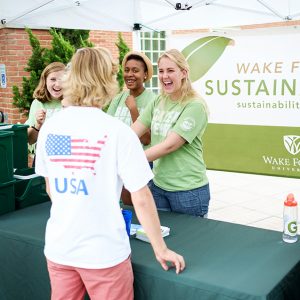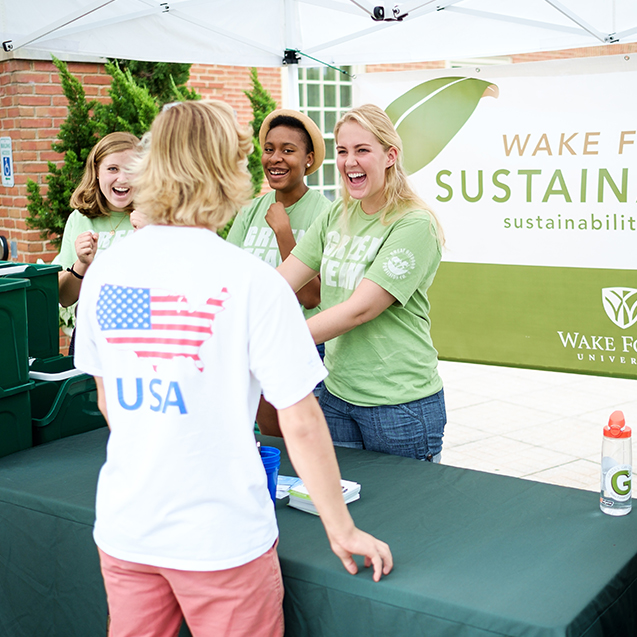 The Office of Sustainability provides students with the support to transform their interests in sustainability into passionate leadership. Whether we can encourage you to carry a reusable water bottle or inspire you to become a change agent for sustainability, there is a place and a way for you to get involved.
Oh, the Places You'll Go…and the Things You'll Learn
What do drones, coral reefs in Belize, backpacking across Alaska and exploring the Peruvian Amazon have in common? They're all part of the environmental program here at Wake Forest, where the world is your classroom. Explore envs.wfu.edu to learn about our many research opportunities and brand new majors in Environment and Sustainability.
And the Learning Doesn't Stop There
Rolling Stones keyboardist Chuck Leavell, author and naturalist Terry Tempest Williams and environmental activist Vandana Shiva are just a few of the world-renowned speakers the Office of Sustainability has brought to campus. In addition to keynote speakers, the Office of Sustainability hosts an annual Earth Week celebration to inspire action through service projects, tree plantings and celebrations.
Stop by Reynolda Hall 101 to learn about ways to get involved in campus sustainability.
Get Involved
Volunteer in the Campus Garden, on the Compost Crew, Plant-Forward Dining Committee, Fashion and Sustainability Committee, or as an environmental educator in local schools.
Lead the Way
Join SLG '24, a group of first-year students who serve as peer leaders for sustainability within their residence halls. Train to become a Sustainability Ambassador or a Greeks Go Green-certified peer-to-peer educator. Jump-start your career by applying for one of our internships.
Reduce, Reuse, Recycle
We've stocked your rooms with personal recycling totes; centralized sorting stations are located on each hall. Reduce waste by filling up your reusable water bottle at any of more than 200 bottle refill stations across campus. We've got you covered behind the scenes with a composting program in the dining halls and at all major events. Learn more at sustainability.wfu.edu.