Contact Info
---
336.758.3328

Location
---

Mailing Address
---
P.O. Box 7191
Winston-Salem, NC 27109

Get Involved
---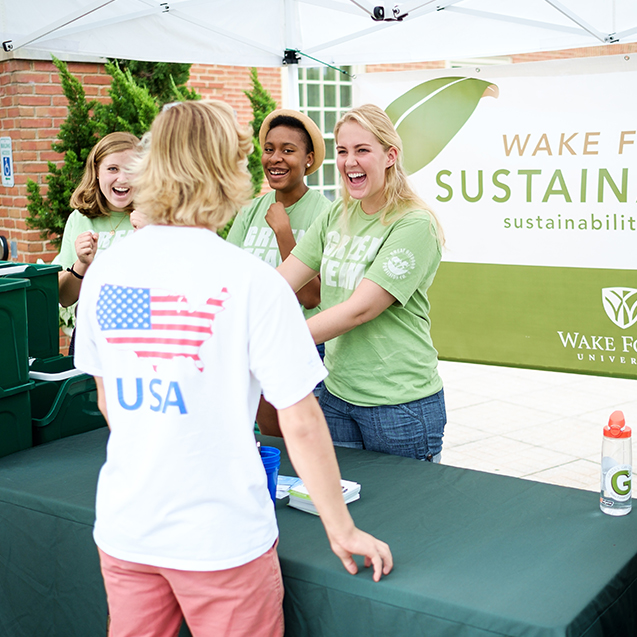 Oh, the places you'll go…and the things you'll learn.
The Office of Sustainability provides students with the support to transform their interests in sustainability into passionate leadership. Whether we can encourage you to carry a reusable water bottle or inspire you to become a change agent for sustainability, there is a place and a way for you to get involved.
The Environmental Program at Wake
What do drones, coral reefs in Belize, backpacking across Alaska, and exploring the Peruvian Amazon have in common? They're all part of the Environmental Program here at Wake Forest, where the world is your classroom. Even on campus, you'll enjoy real-world learning by experiencing the inner workings of Wake through Campus as Lab.
Explore our Environmental Program website to learn about our majors, minors, courses of study, and the many research opportunities that abound.
---
What you need to know
Campus Engagement for Sustainability
Unique events and opportunities throughout the year will help you have some fun, expand your mind, and be inspired to act. Give a presentation and learn from other students at "Earth Talks," attend seminars on climate justice, and hear from world-renowned guest speakers, from rock star authors to actual rock stars. Celebrate with us each spring during Earth Month, featuring service projects, tree plantings, campus sustainability awards, and more.
---
Get Involved
Meet sustainability student leaders and learn how you can get involved at "Let's Taco-Bout Sustainability." Join a sustainability student organization or start your own. Volunteer in areas such as plant-forward dining, youth environmental education, waste reduction, composting, energy conservation, clothing and fashion, and more.
---
Connect & Cultivate
Global sustainability concepts get rooted in hands-on experience in the Campus Garden. Practice the fundamentals of sustainable gardening, learn about the connections between regenerative agriculture and climate change, and harvest produce to alleviate local hunger. Oh, and take a minute to crunch a carrot or cuddle a chicken!
---
Lead the Way
Join SLG '25, a group of first-year students who serve as peer leaders for sustainability within their residence halls. Train to become a Sustainability Ambassador or a Greeks Go Green peer educator. Jump start your career by applying for a paid internship with the Office of Sustainability; you can even propose your own project or position!
---
Walk the Talk
At Wake, caring for the world around us is a way of life. From energy conservation and waste minimization in your residence hall to sustainable dining and alternative forms of transportation, you'll be primed to reduce your environmental impact starting on day one.
We can't wait for you to join us in the sustainability transformation!