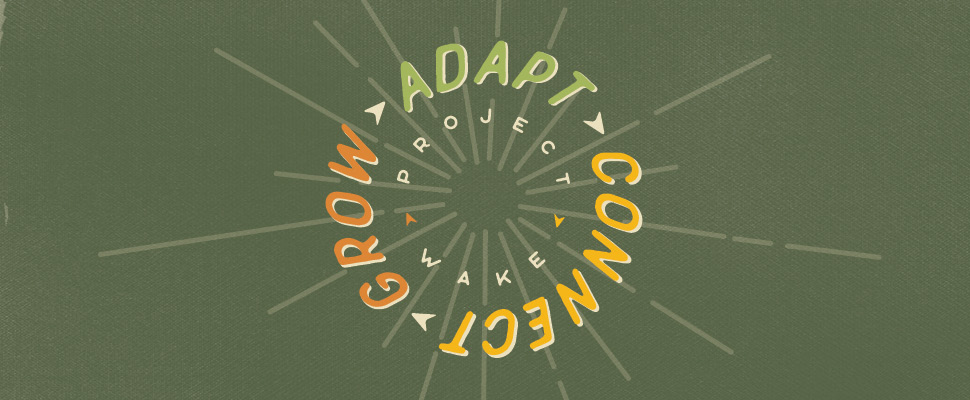 What is Project Wake?
Wake Forest has a long tradition of engaging in a summer academic project on an issue of intellectual and social importance. The tradition includes setting aside time during New Deac Week for students to engage with a faculty or staff member on this issue. It is a favorite New Deac Week activity.
Recent years have taught us that the unexpected can strike fast and profoundly transform our lives. Out of the unexpected, there may be some invitation to consider how to face challenges and embrace opportunities, and indeed come out having been transformed for the better. Our tripartite theme: adapt/connect/grow positions the idea that our experiences as members of the Wake Forest community are on a continuum; we adapt in order to connect, we connect in order to grow and we grow by adapting to change.
As a participant in Project Wake 2022, you will join your peers in thinking about the challenges and opportunities of the remarkable times in which we live, and how your unique background equips you to meet those challenges. In June, you will find a list of the 2022 Project Wake summer reading options at go.wfu.edu/projectwake. Explore the themes of adapt/connect/grow across a wide range of subjects, genres, and disciplines. These conversations have proven to be an exciting and meaningful way to make new friends, and discuss issues that matter.
More on Project Wake
Five former Project Wake participants and discussion leaders share their experiences with Project Wake and why they would encourage students to participate.
---
Reading Options & Discussions
Book: 12 Rules for Life: An Antidote to Chaos by Jordan Peterson
Discussion Leader: Robert Whaples
Location: TBA
Book description:
This best-selling book by Jordan Peterson, former professor of psychology at Harvard and Toronto, aims to give college-aged men and women tools to help run their own lives — to adapt and thrive in the chaotic modern era. Peterson asks people to imagine how they can make themselves better, despite their self-evident flaws. His ultimate advice is to figure out how to take care of yourself so that you can shoulder some of the burden, "take the heroic path," and rise to the goal of taking care of others for whom you have responsibility. He draws extensively on biological research but also draws heavily on his experience as a practicing clinical psychologist. Several of my recent students report that this book has been very important for their growth during their college years.
Among the rules are:
"Treat yourself like you are someone you are responsible for helping."
"Make friends with people who want the best for you."
"Compare yourself to who you were yesterday, not to who someone else is today."
"Set your house in perfect order before you criticize the world."
"Pursue what is meaningful (not what is expedient)."
"Assume that the person you are listening to might know something you don't."
Discussion leader bio: 
Robert Whaples: I am a Professor of Economics, and teach courses including Introduction to Economics, Current Economic Issues, and Economics of Entrepreneurship. I am the editor of The Independent Review and long-time coach of Wake's Quiz Bowl team.
---
Book: A Psalm for the Wild-Built by Becky Chambers
Discussion Leader: Dr. Guy Witzel
Location: TBA
Book description:
What does it mean to come of age in a time of environmental crisis and technological overdependence? How should we understand our responsibility to each other (and to other life-forms) as we sort out what to do with our lives? WHAT– to paraphrase a key question posed in this short (160 pages!) novella by a science fiction author, Becky Chambers – DO PEOPLE TRULY NEED? A Psalm for the Wild-Built explores these questions and more in its portrayal of a positive, one might even say cozy, post-climate change/post-internet future. In this future, civilization has made major changes in its efforts to foster a more sustainable relationship between people and planet – or, to be specific, people and Panga, a habitable moon with a history much like ours. The plot itself concerns a member of this society's passage into adulthood and their unexpected encounter with a representative of the Old World, a robot named Mosscap. By turns funny, moving, and philosophical, this work of contemporary science fiction will appeal to anyone eager to explore what is unique about being a young person in today's world with all its challenges and uncertainties.
Discussion leader bio: 
Dr. Guy Witzel: I am an Assistant Teaching Professor in the Writing Program whose courses often concern our complex and sometimes strange relationships with the natural world. I am excited to sit down with you and imagine other worlds, alternative futures, and what it might mean to discuss the good life with a robot!
---
Book: Because Internet: Understanding the New Rules of Language by Gretchen McCulloch
Discussion Leader: Dr. Jon Smart
Location: TBA
Book description:
Gretchen McCulloch is best known as the co-host of Lingthusiasm, a podcast about language and linguistics for the lay listener. Her 2019 book, Because Internet is a thoughtful, lighthearted discussion of how the internet (and related technologies) have affected the characteristics and use of contemporary English. McCulloch blends social science, pop culture, and history to explore the emergence of new forms of informal writing and online conversations as well as the roles of emojis, gifs, and memes in the evolution of internet culture. The book challenges many of our assumptions about how language connects communities even as it continues to adapt and grow.
Discussion leader bio: 
Dr. Jon Smart: I am a member of the English department where I teach classes on writing and linguistics. I also work with the Center for Global Programs and Studies on an academic program for first-year international students called Global Connections.  
---
Book: Between Two Kingdoms: A Memoir of a Life Interrupted by Suleika Jaouad
Discussion Leader: Carrie Johnston
Location: TBA
Book description:
What do you do when your life is interrupted? And how do you handle it when you realize that things will never go back to normal, even in the very best of scenarios? Author Suleika Jaouad explores these questions in Between Two Kingdoms, a memoir of her unexpected cancer diagnosis at age 22 and the transformations and growth she experiences on her journey from sickness to health. When she realizes that her life will never be exactly as it was before her diagnosis, she embarks on a cross-country road trip to visit people who inspired her while she was sick. Creativity, the arts, and human connection are major themes of the book, her relationship to each being profoundly and unexpectedly changed in the process of treatment and remission.
Discussion leader bio: 
Carrie Johnston: I am the Digital Humanities Librarian in Z. Smith Reynolds Library. I also teach English and love talking about books, especially life-changing ones.
---
Book: Beyond Innocence: The Life Sentence of Darryl Hunt by Phoebe Zerwick
Discussion Leader: Tim Pyatt
Location: TBA
Book description:
This highly readable book tells the powerful story of Darryl Hunt's wrongful incarceration, the struggles to prove his innocence, and the challenges he faced after being released and proved innocent. Zerwick shares Hunt's life story while also exposing the lasting radical injustice embedded in our legal system – from prosecution to incarceration. After his release Hunt worked to help correct the system and advocate for those who had been imprisoned to have a better return to life after release. Ultimately the weight of the systematic racism and inhumanity he endured as well as the expectations of his unsought celebrity proved too much and he committed suicide. Hunt was a native of Winston-Salem and WFU Law professor Mark Rabil led his defense team. Zerwick's 2003 series of articles about Hunt in the Winston-Salem Journal helped bring about Hunt's release and proof of innocence. Zerwick is also a member of WFU faculty.
Discussion leader bio: 
Tim Pyatt: I am the Dean of the Z. Smith Reynolds Library and a Winston-Salem native who closely followed the Darryl Hunt case. 
---
Book: Beyond Innocence: The Life Sentence of Darryl Hunt by Phoebe Zerwick
Discussion Leader: Phoebe Zerwick
Location: TBA
Book description:
This highly readable book tells the powerful story of Darryl Hunt's wrongful incarceration, the struggles to prove his innocence, and the challenges he faced after being released and proved innocent. Zerwick shares Hunt's life story while also exposing the lasting radical injustice embedded in our legal system – from prosecution to incarceration. After his release Hunt worked to help correct the system and advocate for those who had been imprisoned to have a better return to life after release. Ultimately the weight of the systematic racism and inhumanity he endured as well as the expectations of his unsought celebrity proved too much and he committed suicide. Hunt was a native of Winston-Salem and WFU Law professor Mark Rabil led his defense team. Zerwick's 2003 series of articles about Hunt in the Winston-Salem Journal helped bring about Hunt's release and proof of innocence. Zerwick is also a member of WFU faculty.
Discussion leader bio: 
Phoebe Zerwick: I direct the Journalism program and teach writing and journalism. I am also the author of Beyond Innocence.
---
Book: Bittersweet: How Sorrow and Longing Make Us Whole by Susan Cain
Discussion Leader: Melissa Maffeo
Location: TBA
Book description:
From the front cover: "Bittersweetness is a tendency to states of longing, poignancy, and sorrow; an acute awareness of passing time; and a curiously piercing joy at the beauty of the world." Bittersweetness often comes along with life transitions. We feel sad to say goodbye to things we've outgrown, relationships that might not last, and the person we used to be, but we feel joy at the potential for growth and experience in our future. For Project Wake this year, this book can help us all adapt, connect, and grow, by identifying and valuing bittersweetness for what it is and moving through our personal pain and sorrow.
Discussion leader bio: 
Melissa Maffeo: I'm a professor in the Psychology Department, and my expertise is in biological psychology and psychopharmacology. I love to learn about how our biology (and changes made to our biology) changes our behavior. Ask me about my zombie neuroscience class! When I'm not teaching, you can find me cooking, running, or hiking with my dog and kids. 
---
Book: Born a Crime by Trevor Noah
Discussion Leader: Michael Shuman
Location: TBA
Book description:
From apartheid South Africa to the current host of the Daily Show, Trevor Noah's fascinating journey from his "criminal" birth to his celebrity adulthood is told through a series of personal essays that are deeply moving, terribly unsettling, yet absolutely hilarious. Noah is a gifted storyteller, and his ability to recover from adversity is highlighted in each story. His experiences with racism, religion, politics and family are both relatable and compelling, and I'm certain that we will have a lively and meaningful discussion about what it means to adopt, connect, and grow from such a challenging – yet always colorful – childhood.
Discussion leader bio: 
Michael Shuman: I am the Director of our Center for Learning, Access, and Student Success (CLASS), where we are committed to providing opportunities for all students to achieve academic success. The CLASS coordinates many of the academic support services, including peer tutoring and academic coaching, that new students find invaluable, as they navigate their college experiences at WFU. I also teach a course in the Psychology department aimed at teaching students the skills and approaches that are associated with success in college.
---
Book: Cloud Cuckoo Land by Anthony Doerr
Discussion Leader: Meghan Webb
Location: TBA
Book description:
This ambitious and complex novel is set in three distinct time frames: 15th century Constantinople, present day Idaho, and a spaceship in the future. Without giving too much away, I will say that Cloud Cuckoo Land is a gorgeously written, genre-blending work of fiction that follows a cast of illuminated characters living during these distinct time periods. This work epitomizes the power of writing and reading as a way to connect people through time and place. If you love stories, and wildly inventive, uplifting, magical reading experiences, this is the book for you.
Discussion leader bio:
Meghan Webb: I am an Instruction and Outreach Librarian at ZSR Library. In addition to teaching LIB 100 and LIB 290 classes, I develop and lead library programs related to student engagement and work closely with the ZSR Library Ambassadors, our student leadership group. I look forward to meeting you and welcoming you to campus!
---
Book: Dare to Lead by Brené Brown
Discussion Leader: Dr. Johann Ducharme
Location: TBA
Book description:
In Dare to Lead, Brown's shares that leaders are the primary conduit of connection, which requires individuals to foster vulnerable, wholehearted discussions. This book discussion will invite all to consider how trust and connection are fostered while also learning to identify and celebrate the unique values each person holds. Brown explores the following concepts in her book: six myths of vulnerability, the purpose of rumbling with vulnerability while braving courageously in conversation, and building empathy for and with one another.
Discussion leader bio:
Dr. Johann Ducharme: I am a Postdoctoral Fellow in the Program for Leadership and Character and teach courses in education and entrepreneurship. I earned a Ph.D. from the College of William & Mary in Business Leadership and my research focuses on how to cultivate intellectual virtues such as creativity, curiosity, and intellectual humility in students and future leaders. 
---
Book: Educated by Tara Westover
Discussion Leader: Raven Scott
Location: TBA
Book description:
Tara Westover's bestselling memoir is a profound reminder of the ways we carry our communities of origin with us, even as we embark on new educational endeavors. Growing up in an inwardly-focused, survivalist family with rare religious convictions, Westover was taught to fear any education that came from the outside world. Through her story of discovering herself against all odds, she was able to reimagine what life could be for her. The discussion on Educated will allow this group to interrogate their own conception of their college experience and preconceived notions of the world and how Wake can help them adapt/connect/grow in the world and understand your role in it.
Discussion leader bio: 
Ravan Scott: I am an Assistant Director of Programming in the Program for Leadership and Character and a former high school teacher, college coach, and nonprofit director.  I believe in the power of education to change lives and cannot wait to explore those themes through this work! 
---
Book: Everything that Rises Must Converge by Flannery O'Connor
Discussion Leader: Melissa Jenkins
Location: TBA
Book description:
Flannery O'Connor (1925-1964) was a Southern woman writer whose life and writings exemplified difference. She kept peacocks as pets. She suffered from lupus, a disease that deformed her body and left her, at times, in great pain. She remained unmarried. She was a devout Catholic living in a heavily Protestant Southern community. She also wrote provocative short stories about race, gender, and religion during some of the most volatile moments in American history. Flannery O'Connor's short story "Everything that Rises Must Converge," the title story from her final short story collection (1965), offers a tragicomic vision of the American South during the height of the Civil Rights struggle. The story enacts a collision between those who cling desperately to the past, those who pretend to desire renewal but in fact seek regression, and those who want to imagine a new future.
Discussion leader bio: 
Melissa Jenkins: I have been teaching in Wake Forest's English department since 2008. I was born and raised in the American South and love reading and studying the women writers who describe this region in their funny and poignant short stories, novels, and plays. I join O'Connor in my love for animals; I teach an FYS called "Animals Make Us Human" that partners with our local animal shelter. I look forward to meeting you!  
---
Book: How to Be an Anti-racist by Ibram Kendi
Discussion Leader: Dr. Sarah Moore
Location: TBA
Book description:
Over the last few years, it has become increasingly important for us to look beyond blatant racism to the underlying structures and microaggressions that many people encounter in their lives, and what we can do to change and meet the challenges that we face as a country. This book is a how-to manual on being a more inclusive, welcoming, and supportive member of society. As you enter college and begin preparing for your career, this book will allow you to consider your experience of the world in relation to the experiences of your classmates and community. This book is for everyone regardless of race, ethnic identity, sexual orientation and gender identity, religious beliefs, and ableness. We all have a level of privilege and can use that to have a positive impact on the people we interact with and the world at large.
Discussion leader bio: 
Dr. Sarah Moore: I am beginning my 4th year in a full-time role at WFU as an Assistant Teaching Professor in the Department of Counseling. I teach in the Masters of Counseling program as well as in the undergraduate Health and Human Services minor. One of the reasons I chose to become a professor is because I love being on a college campus and having the opportunity to engage with learners and be an intentional learner every day. You are embarking on an amazing journey. I hope that you'll take advantage of that by challenging yourself to grow and change over the next few years. Please join me for a not-easy, but worthwhile look at Mr. Kendi's book.
---
Book: Klara and the Sun by Kazuo Ishiguro
Discussion Leader: Dr. Christa Colyer
Location: TBA
Book description:
In the novel "Klara and the Sun," Nobel prize winning author Kazuo Ishiguro challenges his readers to examine what it means to be human and what it means to love. The story takes place in the near future in the United States and is narrated by Klara, an "AF" (Artificial Friend), whose remarkable observational abilities help us to see the world – and especially the potential impact of artificial intelligence AI, machine learning, and genetic engineering – from a very different vantage point. In a recent interview in "Wired" magazine, Ishiguro said "All these breakthroughs in science, I think they could be great. But, you know, we've got to be ready for them."
I'm really looking forward to leading our discussion of "Klara and the Sun" and trying to answer Ishiguro's question: are we ready to adapt to the many scientific breakthroughs that are upon us now and also, changes that are soon to come? Can we connect on a truly human level and grow our intelligence through AI and machine learning? It will be fun to consider our future together through Klara's eyes!
Discussion leader bio: 
Dr. Christa Colyer: I am a Professor of Chemistry who has been teaching and conducting analytical chemistry research at Wake Forest University for 25 years. I also enjoy serving as a lower division advisor and undergraduate & graduate student research advisor.     
---
Book: Mindset: The New Psychology of Success by Carol Dweck
Discussion Leader: John Welsh
Location: TBA
Book description:
Just a few months before his death I asked my father a difficult question: what book made the biggest difference to you as an adult? A voracious reader, my father couldn't pick just one book, but the first he mentioned was Mindset by Carol Dweck. My father was a well-respected and highly influential college swimming coach for 30 plus years, and spent a great deal of time thinking about how to motivate young athletes – about how they could adapt to new situations, connect with each other as a team, and grow as swimmers and citizens. Mindset changed the way he thought about his role as a coach and a leader as well as how he spoke to others through its central insight: in terms of personal growth, our mindset – the way we think about ourselves – can either be an asset or a barrier.
Many of us go through life with a "fixed" mindset: we are what we are, we have certain strengths and weaknesses, and we do not appreciate any challenges that threaten to disrupt what we consider ourselves to be. Instead, we try to prove to ourselves over and over that we are a certain way, and consider our essence to be permanent and unchanging: fixed. By learning to adapt a growth mindset – and by treating those around us as though they too are capable of growth and change – every challenge becomes an opportunity to grow.
Discussion leader bio: 
John Welsh: I teach beginning and intermediate Italian language classes at Wake Forest. My approach to literary criticism blends elements of fields as disparate as quantum mechanics, behavioral economics, ethical philosophy, and post-structuralist semiotics. Sophomore Maddie Stopyra will also be joining the discussion group. 
---
Book: Minor Feelings by Cathy Park Hong
Discussion Leader: Professor Tess Wise (she/they)
Location: TBA
Book description:
Minor Feelings is a 2021 bestselling memoir by Cathy Park Hong that describes her experiences reckoning with her Korean American identity in a polarized American society. Hong explores the wounds inflicted by racism, the beauty and difficulty of female friendship, and the challenges of acknowledging the simultaneous privilege and oppression embedded in Asian American identity. Hong proposes the concept of "minor feelings," a term for the dysphoric, untelegenic, icky sensations that stem from gaslighting, microaggressions, and the accumulation of small wounds inflicted by a casually racist society. Throughout the book, Hong describes the often-painful process of adapting to the society in which we find ourselves, how the connections we make in college shape our lives, and how we can grow by getting comfortable with being uncomfortable. Hong challenges us to think about how we connect across racial differences, giving us tools to understand racism beyond its most blatant forms and pushing whites and Asians to see themselves as more implicated in American racial politics.
Discussion leader bio: 
Professor Tess Wise: I am a new professor at Wake Forest in the Politics department. I completed my PhD at Harvard in 2019 and grew up in Utah and New Zealand. My teaching and research focus on American racial politics and the American political economy. I teach the courses "Race in America," "Introduction to American Government," and "Politics of Consumer Finance." Minor Feelings is one of my favorite books!
---
Book: Mississippi Solo by Eddy Harris
Discussion Leader: Matt Clifford
Location: TBA
Book description:
When we're faced with a challenging situation, we want to clear our head, or just want to get some alone time, travelling can prove to be a cathartic experience. Mississippi Solo is Eddy Harris' riveting memoir documenting his solo journey as a black man in a canoe down the length of the Mississippi river. Harris uses his trip and the extreme challenge presented to help him and grow and change. We will explore Harris' journey but also consider the ways that travel can push us beyond our limits.
Discussion leader bio:
Matt Clifford: I've been at Wake Forest for 12 years and serve as the Dean of Residence Life and Housing. I was an English major as an undergraduate student and love stories and their connection to our lives. When I'm not at Wake, I'm chasing my four teenage kids around and trying to train our new golden retriever.
---
Book: Moon Palace by Paul Auster
Discussion Leader: Amanda Jones
Location: TBA
Book description:
I read Moon Palace in college and was haunted by this story of Marco Stanley Fogg. Moon Palace starts off with Marco, also in college, and after the death of his only supporting family member, he finds himself completely unable (or unwilling) to "adapt/connect/grow." In his refusal to take responsibility for himself, a series of events ensue wherein he is completely dependent on others and the whims of the universe. Through the surprise encounters of this pivotal, aimless period, Marco ultimately accepts that he must take ownership of his life.
Discussion leader bio: 
Amanda Jones: I am an organic chemist who loves books. When I was your age I was lucky enough to have an organic chemistry professor who showed me that I could keep my feet in two worlds (science and humanities). Project Wake allows me to put on my "humanities hat" and rereading this book, in particular, I foresee an opportunity to reflect on the ways I have been able to "adapt/connect/grow" since that time when I first became captivated by the stories within Moon Palace. I look forward to discussing these themes with you as you begin college, your own time of growth and connection.
---
Book: My Losing Season by Pat Conroy
Discussion Leader: John Llewellyn
Location: TBA
Book description:
This volume describes Conroy's life with a special focus on his senior year of college at The Citadel where he is a point guard on a basketball team challenged by both an old-school coach and the perils of military school discipline. He tells the story of that frustrating season and recounts how he came to the awareness that he wanted to be a writer. This book is a love song: to basketball as the beautiful game that saved him from a dysfunctional family life and gave him courage; to his teammates as young men and again when they reconnect at the end of the tale as old men; and to The Citadel where he found himself and his writer's voice in an environment of chaos, brotherhood, and honor. I use this book whenever I can in my classes because it is a beautifully written roadmap of one student's journey to finding his life's purpose. It also chronicles the early days of integrated athletics in the South and its role in the broader civil rights struggle.
Discussion leader bio: 
John Llewellyn: I have taught at Wake Forest for three decades.  My courses cover public relations, organizational communication, and sports communication.  I worked in government and politics in speechwriting and media relations before joining the academy.
---
Book: Oryx and Crake by Margaret Atwood
Discussion Leader: Hannah Harrison (she/her)
Location: TBA
Book description:
A dystopian sci-fi published in 2003, Oryx and Crake proves eerily prescient of our current sociocultural moment and planetary conditions. It imagines a near future wherein most of the human population has been wiped out due to a man-made plague designed by an evil genius who is so disillusioned with humanity's excess and negligence that he destroys the species in favor of his bioengineered pseudo-human "children," the so-called "Crakers." The novel is the first of a trilogy, but it stands alone in its consideration of where we might be headed given our lust for commodities, our disregard for the environment, and our characteristic hubris. So, while the theme ADAPT/CONNECT/GROW belies a hopefulness in the face of recent and ongoing tragedies, this novel asks us to lean into the ways we might have to adapt, connect, and grow if the worst comes to pass.
Discussion leader bio: 
Hannah Harrison: Welcome to Wake! I am an Assistant Teaching Professor in the Writing Program where I teach WRI 111 Rhetoric of Food & Rhetoric of Athletics, and WRI 340 Mission Possible: Digital Rhetorics for Local Nonprofits. I'm interested in antiracist & community-engaged pedagogy, first year writing, public rhetorics, and community food systems. A native of the Piedmont Triad area, I network and volunteer with several local nonprofits, including the Piedmont Triad Regional Food Council and Growing High Point. Otherwise, you can find me petting one of my 5 cats, outside in my garden, or traveling with my newlywed spouse.
---
Book: Performing Character: From Stage to Page by Ann Phelps and Mary Costanza
Discussion Leader: Mary Costanza
Location: TBA
Book description:
As we return to crowded theatres, art galleries, dance studios, music halls, and practice rooms once again, let us remember how the arts and artists carried us through a dark time, and as we reconvene into what Émile Durkheim calls "collective effervescence" once again—may the shared purpose of catharsis: of laughing, crying, learning, and growing together be among the most important things we celebrate. Artists teach us this and demonstrate it over and over again. These students remind us that this is among our most important experiences as human beings.
At the beginning of the COVID-19 pandemic, as performing artists had to leave their craft for the safety of their communities, student-artists at Wake Forest came together over their shared experiences as artists to discern how these formative experiences connected them to each other and how it helped give shape to their character. This book is an exploration of character formation and the value of our artistic pursuits when they are no longer our sole outlet because of unforeseen circumstances
Discussion leader bio: 
Mary Costanza: I am so happy to welcome you to Wake Forest! I hope you will feel very cared for during your time here. I am the Program and Event Coordinator at the Program for Leadership and Character. Before my current role, I was the Wake Forest Presidential Fellow in the Office of the President and supported the presidential transition. During my time as a student at Wake Forest, I was a Politics and International Affairs major with a minor in Interdisciplinary Humanities because "I wanted to study everything," as I told my mentor. I also danced professionally in the Winston-Salem community, so if you are interested in the arts, don't hesitate to reach out! My academic interests were in arts pedagogy and how it can be reclaimed as a medium for character education. 
---
Book: Racecraft: The Soul of Inequality in American Life by Karen E. Fields and Barbara J. Fields
Discussion Leader: Prof. T. H. M. Gellar-Goad
Location: TBA
Book description:
Most people assume racism grows from a perception of human difference: the fact of race gives rise to the practice of racism. Sociologist Karen E. Fields and historian Barbara J. Fields argue otherwise: the practice of racism produces the illusion of race, through what they call "racecraft." And this phenomenon is intimately entwined with other forms of inequality in American life. So pervasive are the devices of racecraft in American history, economic doctrine, politics, and everyday thinking that the presence of racecraft itself goes unnoticed. That the promised post-racial age has not dawned, the authors argue, reflects the failure of Americans to develop a legitimate language for thinking about and discussing inequality. That failure should worry everyone who cares about democratic institutions.
Discussion leader bio:
Prof. T. H. M. Gellar-Goad: I am an Associate Professor of Classics at Wake Forest University.  I specialize in Latin poetry, especially the funny stuff: Roman comedy, Roman erotic elegy, Roman satire, and — if you believe — the allegedly philosophical poet Lucretius. I am the author of Laughing Atoms, Laughing Matter: Lucretius' De Rerum Natura and Satire and Plautus: Curculio.  I am an intersectional feminist and antiracist activist with an interest in critical race theory, hence this book!
---
Book: Real Life: A Novel by Brandon Taylor
Discussion Leader: Dr. Andrew St. James
Location: TBA
Book description:
Real Life by Brandon Taylor centers on an introverted, black, queer Southern protagonist, Wallace, who finds himself searching for belonging and questioning his place in his STEM degree at his predominantly white Mid-Western university. Through the novel, we grow to appreciate the myriad challenges faced by Wallace and his peers who struggle to reconcile "real life" with the student experience. As we follow Wallace's story, mostly over the course of a single weekend, we see his attempts to ADAPT to his university, CONNECT with his peers, and GROW into a sense of self. This engaging campus novel was short-listed for the 2020 Booker Prize and deals with themes of belonging, grief, desire, self-preservation, and more. Please note that the novel deals with adult themes, including domestic abuse and racism.
Discussion leader bio: 
Dr. Andrew St. James: I am an Assistant Teaching Professor in the Biology Department, where I primarily teach Microbiology and Biology of Soils. I engage in research on environmental microbiology and biology education. I am especially interested in studying the experiences of minority students in STEM degree programs. I look forward to the fruitful conversations about the intersection of class, race, and sexuality in STEM that will arise from this book discussion.
---
Book: Rescuing Socrates: How the Great Books Changed My Life and Why They Matter for a New Generation by Roosevelt Montás
Discussion Leader: Brian Warren
Location: TBA
Book description:
In a work that is part memoir, part meditation on the humanistic ideals of liberal arts education, Roosevelt Montás tells the story of how his life as an immigrant to the United States from the Dominican Republic began to be transformed by his discovery of a volume of Plato's dialogues he found in a pile of trash in his New York City neighborhood. His critical encounters with authors such as Augustine, Freud, and Gandhi continued in college, and Montás has since become the director of Columbia University's Freedom and Citizenship Program, which introduces low-income high school students to the study of the intellectual, political, and literary traditions that have had such a profound impact on his own life.
Discussion leader bio: 
Brian Warren: I am an Associate Teaching Professor in the Department of Classics. I teach courses in Greek, Latin, Ancient History, and Interdisciplinary Humanities, as well as a First-Year Seminar called Tragic Love Stories: Ancient and Modern.
---
Book: Rewire Your Anxious Brain: How to Use Neuroscience of Fear to End Anxiety, Panic and Worry by Catherine M. Pittman and Elizabeth M. Karle
Discussion Leader: Silvia Tiboni-Craft
Location: TBA
Book description:
In Rewire Your Anxious Brain, psychologist Catherine Pittman, and author Elizabeth Karle offer a unique, evidence-based solution to overcoming anxiety based in cutting-edge neuroscience and research. This book aims for the reader to gain a greater understanding of how anxiety is created in the brain, and as a result, to feel empowered and motivated to overcome it. The brain is a powerful tool, and the more you work to change the way you respond to fear, the more resilient you will become. Using the practical self-assessments and proven-effective techniques in this book, the authors teach to learn to literally "rewire" the brain processes that lie at the root of your fears.
Discussion leader bio: 
Silvia Tiboni-Craft: I am an Associate Teaching Professor and I have been at Wake Forest since 2012. I teach Italian-Cultural classes and a FYS titled "Don't call me crazy! A Journey Into Women's Mental Health in Films and Fiction. Starting this fall, I will be a Faculty Fellow in Bostwick. I am very excited to have this book discussion and I look forward to meeting you all! Rising senior Elizabeth Crispino will join the conversation. 
---
Book: Still Alive: A Holocaust Girlhood Remembered by Ruth Kluger
Discussion Leader: Molly Knight
Location: TBA
Book description:
In this memoir, Ruth Kluger describes her experiences as a Jewish teen in Vienna during the early years of Nazi occupation, and then her deportation first to Terezin, then Auschwitz. In reflecting on her survival story, Kluger challenges many of the tropes of Holocaust literature; she rejects the notion that her suffering might somehow have improved her character, and strives to recount her story as honestly as possible. Her work is a unique representation of one woman's coming of age under the most difficult circumstances imaginable that questions many of our assumptions about the role of struggle in the development of character.
Discussion leader bio:
Molly Knight: I am an Associate Teaching Professor in the German and Russian department, where I teach German language, literature, and film courses, as well as an FYS course on psychopathy in popular culture.  I've been at Wake since 2011.  
---
Book: Stumbling on Happiness by Daniel Gilbert
Discussion Leader: Dr. Stephen G. Smith
Location: TBA
Book description:
It's probably fair to say that, as humans and individuals, we feel we have a pretty good sense of what makes us happy. Given that most of us desire some degree of happiness in our lives, we commonly use this intuition to guide our decision-making, whether it's choosing what to have for lunch or what career to pursue. In Daniel Gilbert's book Stumbling on Happiness, we are challenged to reconsider our perceived expertise when it comes to these matters, especially with respect to what we believe will most delight our future selves. Gilbert, the Edgar Pierce Professor of Psychology at Harvard University, provides a scientific, data-driven view of why, as it turns out, we are actually quite inept at imagining the future and predicting the circumstances in which we will be most content. It is only when we understand our foibles of imagination and illusions of foresight that we can adapt our decision-making accordingly, connect with our values and desires on a deeper level, and grow to become the individuals that won't be wondering what in the world our past selves were thinking.
Discussion leader bio:
Dr. Stephen G. Smith: I am a Visiting Assistant Professor within the Environmental Program at Wake Forest University. I am a geoscientist who loves teaching and learning about the planet, but is also fascinated with the science of human behavior.
---
Book: Superforecasting: The Art and Science of Prediction by Philip E. Tetlock and Dan Gardner
Discussion Leader: Carolyn Coberly
Location: TBA
Book description:
How can we predict the future? Adapting to change – whether it is a global pandemic, a change in the stock market, or the Russian invasion of Ukraine – is easier when we base our expectations on realistic assumptions about the world. Superforecasting discusses the qualities that produce the best predictions of global and business events – and how we can use them in everyday decision-making. Incorporating case studies, interviews with policy makers, and an accessible introduction to the math behind some prediction, the book translates academic research into concrete recommendations on how leaders can make better decisions. This group will review the conclusions of the book and talk about how we can apply the techniques used by "super-forecasters" to our own decision-making.
Discussion leader bio:
Prof. Carolyn Coberly: I am a former American diplomat and Congressional aide with a focus on Iran and Central Asia. I have taught introductory courses in Comparative and International Politics at Wake Forest for the past two years. I predict this discussion group will be the best!
---
Book: Teach Yourself How to Learn: Strategies You Can Use to Ace Any Course at Any Level by Saundra Yancy McGuire
Discussion Leader: Sarah Raynor
Location: TBA
Book description:
This book helps college students learn to adapt to college studying demands and gives concrete strategies for improving their learning and grades. Particularly targeted for students in the transition to college, it shows students how to truly learn the material rather than just study it.
Discussion leader bio: 
Sarah Raynor: I am the chair of the math department.  I have been a mathematician and professor at Wake for 18 years.  In my spare time, I enjoy competitive bridge (the card game) as well as many different crafts.
---
Book: The Alchemist by Paulo Coelho
Discussion Leader: Dr. Betsy Chapman
Location: TBA
Book description:
Paulo Coelho's masterpiece tells the mystical story of Santiago, a shepherd who yearns to travel in search of a worldly treasure. His quest will lead him to riches far different—and far more satisfying—than he ever imagined. Santiago's journey teaches us about the essential wisdom of listening to our hearts, of recognizing opportunity and learning to read the omens strewn along life's path, and, most importantly, to follow our dreams. I love this book because it is short and easy to read, yet has profound wisdom about how to adapt when your well-laid plans go astray.
Discussion leader bio: 
Dr. Betsy Chapman: I am the Executive Director of Family Communications at Wake Forest and author of the Daily Deac blog, which covers a variety of Wake Forest activities, news, and helps give a glimpse of campus life. I try to live by Coelho's famous quote: "when you want something, all the universe conspires in helping you to achieve it."
---
Book: The Art Instinct by Denis Dutton
Discussion Leader: Morna O'Neill, Dr. Jennifer Finkel
Location: TBA
Book description:
How have humans adapted to make art? And how does art adapt to its environment? In The Art Instinct, the art historian Denis Dutton places art in dialogue with evolutionary science to argue that the human appreciation for art is innate. With The Art Instinct as a backdrop, we'll view works of art from the University Art Collection in Benson Student Center, and Reynolda House Museum of American Art to consider how the art collection adapted to Wake Forest and how art works can forge growth and connection. We will pay particular attention to the Wake Forest Student Union Art Acquisition Experience, a pioneering program that tasks students with acquiring art for the university. The only mandate for this experience is that the art "must reflect the times." Dr. Jennifer Finkel, Curator of the University Art Collection, will co-lead this discussion.
Discussion leader bio:
Morna O'Neill: I am a professor of Art History in the Art Department, and I teach the history of art collecting and the art museum. I love talking to students about art, and introducing them to the amazing resources at Wake Forest for visual learning. I'm looking forward to talking about art, about the display of art, and about the Wake Forest Study Union Art Acquisition experience, where every four years since 1963, a small group of students purchase art for the Student Union Collection.
Dr. Jennifer Finkel: I am the Acquavella Curator of Collections at Wake Forest University. As curator overseeing the university's art collection of nearly 2000 objects, I am responsible for the stewardship, care, and conservation of the collection. In addition, I work with faculty to integrate the collection into the curriculum, providing students with opportunities for direct engagement with original works of art. From 2005 to 2019, I was the Curator of Cleveland Clinic's contemporary art program, responsible for procuring artwork for the hospital; overseeing art installations and site-specific commissions; curating quarterly rotating exhibitions; and publishing research related to the effects of contemporary art on patient outcomes. I hold a B.A. in Art History from Georgetown University (Washington, DC), and a M.A. and Ph.D. from Case Western Reserve University (Cleveland, Ohio).
---
Book: The Beekeeper of Aleppo by Christy Lefteri
Discussion Leader: Miaohua Jiang
Location: TBA
Book description:
The author was a volunteer at a UNICEF-supported refugee center in Athens, Greece helping refugees from Syria and Afghanistan. Based on her personal experiences there, the author wrote this novel to "explore the internal conflicts, the way memory is affacted, the way we are with people we care about most in the world when we have suffered so much loss that we are broken. The author "set forth the idea that among profound, unspeakable loss, humans can still find love and light – and see one another."
Discussion leader bio:
Prof. Miaohua Jiang: I came to the United States in the late fall of 1989 from China. I obtained a Ph.D. in mathematics from Penn State in 1995. After three years as a postdoctoral fellow, I joined the faculty of Wake Forest in 1998. I and my wife have a son who will be graduating from Atkins High School next year. In addition to teaching and research in mathematics, I love reading, arts, and gardening. The novel was recommended to me by my adult daughter, also a lover of books.
---
Book: The Life-Changing Science of Detecting Bullshit by John V. Petrocelli
Discussion Leader: John Petrocelli
Location: TBA
Book description:
Today, the world is awash with misinformation, disinformation, fake news, hoax news, inaccurate news, spin and deception. A common thread through each of these sources is a pervasive and insidious communicative substance that we commonly call bullshit—which is not just a cutesy or provocative word—but now a technical term used in philosophy and psychology to signal that something has been communicated without regard for truth, evidence, or what we call semantic, systemic, logical, or empirical knowledge. The worst outcome of bullshit communications is bad decision making. In my research as an experimental social psychologist, I've found a very big problem: we all think we know bullshit when we see and hear it. The reality is, we really do not, and that's why a surprisingly and disturbingly large percentage of really smart people still believe that storing batteries in the freezer will improve their performance, that you can see the Great Wall of China from space, or that perhaps there are medicinal qualities to Clorox and other household, disinfectant cleaners. In The Life-Changing Science of Detecting Bullshit, I propose that bullshit is much more than just an insult and its detection is bigger than our common sense of it.
Discussion leader bio: 
John Petrocelli: I am a Professor of Psychology.  More specifically, I am an experimental social psychologist who studies social cognition (i.e., how people select, interpret, remember, and use social information to make judgments and decisions about themselves and the social world), with a special focus on bullshitting and bullshit detection, attitudes, persuasion, and judgment and decision making.  I teach a capstone course for majors in psychology entitled "Contemporary Issues in Psychology: Bulls#!ting and Calling Bulls#!t" and frequently lead discussions about the problems with bullshit and how to detect and combat it.  I'm eager to think more with you about this topic.  
---
Book: The Parable of the Sower by Octavia E. Butler
Discussion Leader: Olga Valbuena
Location: TBA
Book description:
Opening in the suburbs of Los Angeles, the year is 2024 and Lauren Olemina's world is in the throes of ecological, economic, and infrastructure collapse. Only walls keep invaders from breaching her vigilant neighborhood, "an island surrounded by sharks." But when all barriers prove useless against a wave of intruders fueled by a powerful new synthetic drug, Lauren loses her small community, her home, and what remains of her family. Alone in the world but armed with the few essentials she had been gathering for some time, principally, the Earthseed notebook in which Lauren has been refining new truths to displace the old verities of a received faith that has lulled "our adults" into passivity, Lauren sets out with the premise that God is Change that must be adapted to and in turn, molded. Walking northward in search of a new beginning, Lauren gathers others whose material belongings have been lost but whose gradual willingness to cooperate and accept each other in a time of crisis gives human form to the simple premise that "All that you touch / You Change. / All that you Change / Changes you."
Discussion leader bio: 
Olga Valbuena: I am an English professor specializing in Shakespeare with an emphasis on religion and colonization of the Americas. In my free time, I enjoy kayaking and spending time outdoors. Although published in 1993, Octavia E. Butler's Parable of the Sower reads as though it was written in and for the present moment. I look forward to discussing this alarming yet powerfully hope-filled book with incoming students who are concerned about the climate emergency, class and race inequality, and the future of America.
---
Book: The Time Traveler's Wife by Audrey Niffenegger
Discussion Leader: Jackie Friedman
Location: TBA
Book description:
The author best captures the spirit of this book in her author's note to the 10th edition when she notes "Our present is created and shadowed by our past. We live in the present, blissfully innocent of our future." This novel is told through the interwoven perspectives of an inadvertent time traveler who must adapt to surroundings following jumps through time and his connection to his wife who he interacts with throughout her lifespan. Both characters balance sometimes precarious present scenarios with knowledge of both their own and their loved one's future and explores the bonds of human relationship as it grows over time.
Discussion leader bio: 
Jackie Friedman: I work in the Center for Learning, Access and Student Success at Wake Forest, where I help any Wake Forest student looking to build skills for academic success (such as time management and managing test anxiety) and help students with disabilities access accommodations in the classroom settings. I'm a Clinical Psychologist by training, and have long been fascinated by aspects of human relationships and how our interactions with others help us adapt, grow and change.
---
Book: The Tipping Point: How Little Things Can Make a Big Difference by Malcolm Gladwell
Discussion Leader: Dana Lopez, Matthew Dantism
Location: TBA
Book description:
Discover Malcolm Gladwell's breakthrough debut and explore the science behind viral trends in business, marketing, and human behavior. The tipping point is that magic moment when an idea, trend, or social behavior crosses a threshold, tips, and spreads like wildfire. Just as a single sick person can start an epidemic of the flu, so too can a small but precisely targeted push cause a fashion trend, the popularity of a new product, or a drop in the crime rate. This widely acclaimed best seller, in which Malcolm Gladwell explores and brilliantly illuminates the tipping point phenomenon, is already changing the way people throughout the world think about selling products and disseminating ideas.
Discussion leader bio: 
Matthew Dantism: I am an Associate Director for Campus Recreation and the Wake Forest Wellbeing Center.
Dana Lopez: I work for Campus Recreation and oversee our Intramural and Club Sport programs.    
---
Book: Untamed by Glennon Doyle
Discussion Leader: Kelsey Hansen
Location: TBA
Book description:
Through this memoir, New York Times bestselling author, Glennon Doyle, challenges readers to unlock their inner cheetah, to free yourself from the expectations the world and others have put on you to allow you to connect with a truer form of yourself. Through several short stories, Untamed, shows us how to be brave. Bringing your true self as you adapt to living and learning at Wake Forest will help you form genuine connections with peers, faculty, and staff. These connections will help you continue growing and developing into the person you want to be when you graduate. Let's #getuntamed as you start your college journey!
Discussion leader bio:
Kelsey Hansen: I am the Assistant Director of Residence Life for Residential Engagement and Academic Initiatives. I supervise the Community Directors on South Campus, which is where you will all call home! This will be my fourth year at Wake Forest and I look forward to welcoming you to the forest! Aside from reading, in my free time I enjoy lifting/crossfit, soaking up the sunshine, hiking and biking, and baking. Can't wait to help you adjust to life on campus!
---
Book: What Can a Body Do?: How We Meet the Built World by Sara Hendren
Discussion Leader: Davita DesRoches with AJ Aizpurua (rising senior)
Location: TBA
Book description:
What Can a Body Do?: How We Meet the Built World by Sara Hendren is a love letter to the human ability to adapt. She reminds us that if you wear glasses or if you use left-handed scissors, you already understand that assistive technology is essential to human life and community. This book tells the story of the design and redesign of assistive technologies like prosthetics, accessible residence halls, and adjustable podiums because of the inventive advocacy and adaptations of people with disabilities and those with whom they co-create. This book is for the makers, the designers, the engineers, and the innovators, even if you don't call yourself one yet!
Discussion leader bio:
Davita DesRoches: I work in the Center for Learning, Access, and Student Success at Wake where I coordinate accessible course materials and assistive technology for students with disabilities. As a lifelong bookworm, I loved the way that my undergrad and graduate coursework in math, English, and divinity introduced me to a broad range of new reading material, and I look forward to connecting with you as you nurture your own journey with reading (in whatever format and genre works best for you!).
AJ Aizpurua: My name is AJ Aizpurua. I am a Senior seeking a Bachelors of Science in Computer Science and a minor in Mathematics. I am a TA in the Computer Science department, CLASS ambassador, member of Robotics club, and ACM president. I am also a huge soccer fan and I play a lot of video games in my free time.
---
Book: When Breath Becomes Air by Paul Kalanithi
Discussion Leader: Brian Calhoun
Location: TBA
Book description:
This is the third Project Wake that I use this text. With the themes of identity and community at the core of our discussion this year (Adapt / Connect / Grow) — being identified as a helper is at the forefront. In the time of covid-19 – our front line medical personnel and professionals have risen to the task of helping those who have medical ailments and illnesses. We recognize the sacrifice that medical professionals and their families must endure to pursue their calling (identity) and help be the professional healers of their respective communities. The text also looks at medical ethics, mortality, and choice. I look forward to meeting you, and discussing the text and what it means to be a helper.
Discussion leader bio: 
Brian Calhoun: I teach in the Department of Education, and serve as a senior faculty fellow in South Residence Hall. I am an alum of Wake Forest, and I know how meaningful the first year on campus can be. I appreciate the opportunity to work with you and help with your transition to college.
---
Book: Whistling Vivaldi: How Stereotypes Affect Us and What We Can Do by Claude Steele
Discussion Leader: Katy Harriger
Location: TBA
Book description:
Claude Steele is a renowned social psychologist whose work on the concept of "stereotype threat" has had a profound impact on our understanding of the damage that stereotypes can have on our perceptions of ourselves as learners. As a human being, this book taught me to recognize my own implicit biases as well as the ones to which I have been subjected. As a teacher, it taught me how to better understand the impact of stereotypes on students' learning. What I appreciate most about the book is that it doesn't just explain the problem but offers us workable interventions for breaking the negative power of stereotypes. Plus, Professor Steele will be coming to campus this fall to give a speech. I look forward to talking about these ideas with you as you start your journey at Wake Forest.
Discussion leader bio: 
Katy Harriger: I am a Professor in the Department of Politics and International Affairs and teach courses in American Politics and Constitutional Law and a First Year Seminar about Brown v. Board of Education. I'm also the Faculty Director of the Wake Washington program. Before the age of 8 I lived in 4 different states (including Hawaii) because my dad was in the Air Force.  At age 8 we moved to a farm in very rural western Pennsylvania where I grew up. But North Carolina is my home now, having lived here longer than anywhere else in my life.   
---
Book: White Fragility: Why It's So Hard for White People to Talk About Racism by Robin DiAngelo
Discussion Leader: Mir Yarfitz
Location: TBA
Book description:
College can be a time of social transition which is both exciting and uncomfortable. Many students come from communities and schools where most people have similar cultural backgrounds, while students come to Wake from all over the world and many walks of life. This book addresses some of the consequences for White people of living lives that are mostly around people who look like us. It offers tools to begin to recognize the harmful messages about our differences that everyone has absorbed our entire lives, and to try new behaviors which can help us have more meaningful conversations, deeper friendships, and larger lives. Whether or not you identify as White, this book is for anyone who wants to think harder about White culture. While we take as given that racism is a structural problem, we will explore concrete changes within the reach of each of us. Our discussion will focus on developing tolerance for usefully uncomfortable conversations, growing from mistakes, and distinguishing between intention and impact.
Discussion leader bio: 
Mir Yarfitz: I am a professor of Latin American and Jewish History, and Women's, Gender, and Sexuality Studies. I have been learning to talk about Whiteness and racism, along with other challenging topics, for many years, and have appreciated discussing these issues openly with my students, advisees, and interested members of Greek life. 
---
Book: Why Fish Don't Exist by Lulu Miller
Discussion Leader: Erin Branch
Location: TBA
Book description:
How do we–or should we–respond to chaos, to our world being turned upside down? In Why Fish Don't Exist, NPR science reporter (and former Radiolab producer) Lulu Miller recounts the life of David Starr Jordan. Perhaps most famous as the first president of Stanford University, Jordan was also a renowned ichthyologist who discovered and named thousands of species of fish…before his work was all but obliterated in the 1906 San Francisco earthquake. Rather than giving up in despair, Jordan painstakingly rebuilt and improved his collection. The story of Jordan's controversial life and contributions to science (he was a vocal proponent of eugenics) is told alongside Miller's own path to personal and professional equilibrium.
Discussion leader bio: 
Erin Branch: I am an associate teaching professor and director of the Writing Program, where I primarily teach first-year writing and some upper-level courses in writing and rhetoric. I'm particularly interested in the rhetorics of science, medicine, and food. In the off hours, I love to be outside with my four kids, dog, and 15 chickens, or in the kitchen honing my pastry and bread-baking skills.