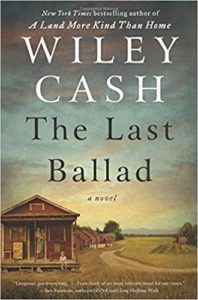 Ella May Wiggins is a young mother and mill worker in Bessemer City, North Carolina, who leaves her job and everything she's ever known in the hopes of creating a better life for her family and the community that took her in. Based on the true story of the violent Loray Mill Strike of 1929, this book explores the realities of working class families in rural America and the difficult decisions that individuals are forced to make in order to survive. Written by award-winning North Carolina author, Wiley Cash, the story of Ella May and her courageous fight will welcome you to the rich history of North Carolina and inspire you to raise your own voice in solidarity.
Discussion Leader:  Steph Trilling, SAFE Office
My name is Steph Trilling, and I am the Assistant Director of the Safe Office. This was one of the first novels I read after moving to Winston-Salem and I was fascinated by this area's history of industry, community, music and resistance. In high school, American History was one of my favorite subjects, and as an undergraduate, I was introduced to a side that I had never before been told: the history of women and LGBTQ folks, of people of color, of immigrants, of the poor and working class. My History major propelled me into a career as a social worker and advocate. I look forward to diving into a side of American history that many of us were not taught and discussing ways that we can carry on Ella May's legacy today.