Discussion Leader: Mary Katherine Newsome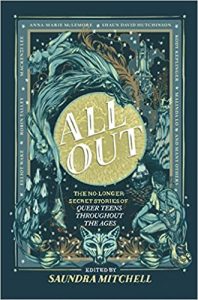 This anthology is a collection of diverse LGBTQ+ historical fiction short stories that explore queer youth across cultures, time periods, and identities. You'll read some genre-bending retellings of fairy tales and folk figures, fall in love with characters as they fall in love on the page, and rediscover the buried truth of history–that the queer community has been a part of it all along! We'll talk about our favorite stories among the collection, explore the power of representation, learn about the real history behind the fiction, and discuss the importance of intersectionality.
I am the CARE Team Case Manager in the Dean of Students Office. I work with students who are in need of support and help connect them with resources on campus tailored to their specific circumstances. As a queer professional and licensed clinical mental health counselor, I am passionate about diverse representation in fiction, and seeing both ourselves and learning about others on the page. I hope you'll join me!