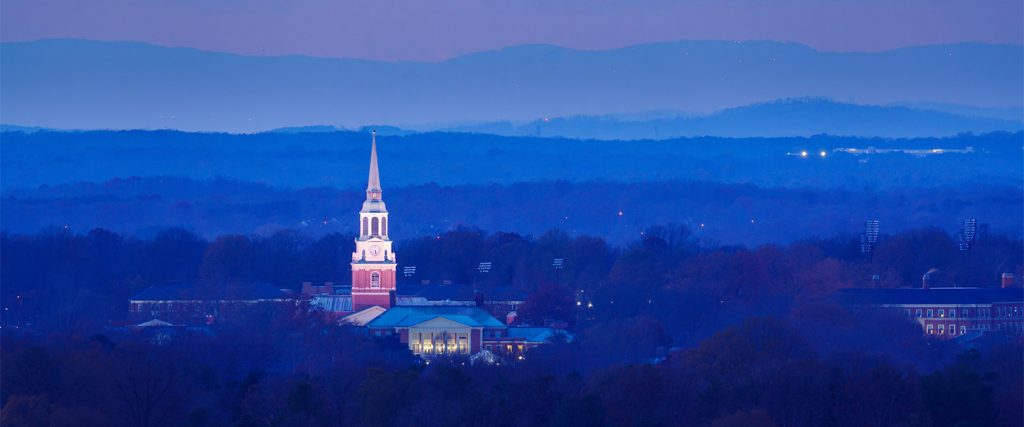 What is Project Wake?
Wake Forest has a long tradition of engaging in a summer academic project on an issue of intellectual and social importance. The tradition includes setting aside time during New Deac Week for students to engage with a faculty or staff member on this issue. It is a favorite New Deac Week activity.
The Project Wake 2022 theme is:
ADAPT/CONNECT/GROW
Recent years have taught us that the unexpected can strike fast and profoundly transform our lives. Out of the unexpected, there may be some invitation to consider how to face challenges and embrace opportunities, and indeed come out having been transformed for the better. Our tripartite theme: adapt/connect/grow positions the idea that our experiences as members of the Wake Forest community are on a continuum; we adapt in order to connect, we connect in order to grow and we grow by adapting to change.
As a participant in Project Wake 2022, you will join your peers in thinking about the challenges and opportunities of the remarkable times in which we live, and how your unique background equips you to meet those challenges. In June, you will find a list of the 2022 Project Wake summer reading options. Explore the themes of adapt/connect/grow across a wide range of subjects, genres, and disciplines. These conversations have proven to be an exciting and meaningful way to make new friends, and discuss issues that matter.
More on Project Wake
Five former Project Wake participants and discussion leaders share their experiences with Project Wake and why they would encourage students to participate.
---
Reading Options & Discussions
Details for summer reading options and discussion locations that are scheduled to take place this fall will be made available in early summer.