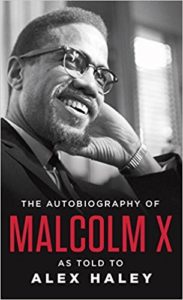 Sometimes the narrative of Malcolm X that we are most aware of is based on the part of his life with which we are most familiar. In fact, that most know him as Malcolm X rather than by two of his other names (Malcolm Little and el-Hajj Malik el-Shabazz) speaks to the time of his life when he most captured the world's attention. To know only that name and that part of his life, however, would be to miss what makes him one of the most influential and (from my vantage point) admirable humans in modern history. The story of Malcolm X is one of constant self-reflection, honesty, and evolution – certainly some of the most essential components of living a life with integrity and character.
Discussion Leader:  James Raper, University Counseling Center
My name is Dr. James Raper, and I am the Director of the University Counseling Center. The story of Malcolm X first captured my attention during my junior year of high school, and I spent most of my junior and senior years of college researching and writing about Malcolm X's evolution. Since that time my professional career has been focused on providing therapy to university students, a process that can sometimes be almost solely about self-awareness, honesty, and evolution. I'm thrilled to spend time again with this book and with a group of incoming first year students as we explore what it means to be reflective and do things that are difficult. Isn't that what the college experience is about?