Main Content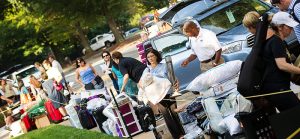 Packing/supplies
Don't bring too much!  My daughter told me that she didn't wear 1/2 of what she brought to school.
Pack your belongings into duffel bags/containers that are easy to carry.  You drop everything at the curb of your residence hall and it is moved by others. Helpful to label all boxes or belongings with your Deac's dorm name and room # (like Babcock 305A).
Don't pack stuff you can buy at Target. Pack the basic stuff you need to make your bed and decorate your walls. Once you are there, go to Target and Bed Bath & Beyond and buy the rest.
Make a picture collage of friends/family/pets from home to help with initial homesickness.

Prepare a mini medicine chest for them with instructions on over-the-counter medicine:  thermometer; pain reliever, allergy/antihistamine, disinfectant, bandaids, cough drops/cold medicine, etc.   This will save your student a trip to the store when they are sick.

I had written a card for my daughter saying all those encouraging words that I was afraid I wouldn't remember in the good bye moment. I slipped it under her pillow so she would find it her first night in her new surroundings!
"We ordered dorm gear at our local Bed, Bath and Beyond and picked it up at the store in Winston-Salem; it was a breeze. But we bought bedding and towels locally so we could wash everything before move-in."
Transportation & Lodging
Buy refundable plane tickets because the dates can change.
Air travel — For those of us for whom getting to/from Greensboro is a two-flight proposition, explaining the relative merits of flying in and out of Charlotte is something people might like to know more about.  For example, there are far more flights in and out of Charlotte than Greensboro.  If you are flying into Charlotte and miss a connection, it can be easier to get another flight to Charlotte since more are offered, than if you miss a connection to Greensboro.  But ground transportation Charlotte (or Raleigh) airport (since students can't rent cars) is much more expensive from these airports vs. Greensboro.  It all works out and everyone has their "way" of doing it — but explaining those options better to the two flight world would help.
There are airport shuttles to Charlotte and Greensboro only (not Raleigh), and sometimes the Charlotte shuttles are limited. Students going to Raleigh or Charlotte can use Uber (alone or shared) or can use the car services offered via the Benson Center.
If Southwest Airlines is an option, the two free bags can be a fun way for the family to come along and help with the move. Bring bags you can pack in other bags for easier trip home.
"Make your Move-In/Orientation and Family Weekend hotel reservations well in advance (& restaurant reservations too)."
Move-In Day/Orientation
Don't get caught up with the location of your student's residence hall. They are all nice and each has its own pluses and minuses.

The University makes moving in easy.  You will receive help from varsity athletes to carry in the massive amount you are bringing for your child and they unloaded my car so fast that I shouldn't have even turned it off!
Parents – don't drop off and roll out the gates – take advantage of the opportunities provided to you by WFU – and support your son/daughter!  They are probably very nervous.
Bring a tool kit, power strip, extension cord! We needed a small hammer, tape measure, pliers: the girls kept changing their minds on room set up – so before we moved beds again, we measured!
Your student (and you) are nervous with emotions running high. Help your student move in but let them set it all up themselves. Don't linger around crying and showing emotions to them because it only upsets them more. Let them know if they need you that you will be around to help.

We met our son's roommate and his parents the night before move-in for dinner.  It was a great way to get to know each other.  We still meet for dinners and brunches when we are on campus together!
"You will only have one college move-in day so enjoy every minute. As hectic as it might seem, there is so much excitement, joy and anticipation that only happens once on this special day."
Stay connected… but also give your student space
Let your student find their own way.
Make a note of your child's college post office address and SHARE it with family and friends. It's amazing how happy a postcard can make someone. Send care packages with silly stuff and stuff that lets them know you miss them. Special holidays are hardest!
Call your kid every Friday. Sage advice from Betsy Chapman. Freshman year we called every Friday. The last two years he has called us every Friday. Lovely way to keep in touch.
Attend Family Weekend – a blast! And you meet the families of your students friends. Send care packages!  Everything they love from home and include plenty for friends
"Stay out of it, whatever "it" is (unless your student has a real threat to their health, well-being or safety). Our son has matured dramatically in 2 years by using the resources available to him on campus and working out  his own problems. If there is an issue that you suspect you may need to intervene, check with the Office of Family Engagement first- they are well versed in every issue and can offer you insight into how/if and when to proceed."
Misc
Wake Wash [the student run laundry service] was a life saver for our son….even though initially I was against it because we spent high school teaching laundry skills. There are too many other things to focus on.
Moms particularly seem to get the distress calls – you must remember that your student is usually fine within minutes of getting off the phone.
Enjoy downtown Winston Salem – it is a great town with so many fun restaurants, bars and venues!