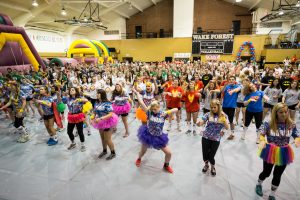 Try something new!  Meet new people!  Make friends in each of your classes. Get involved in things that interest them.
My daughter has really enjoyed the social life afforded by being in a sorority. I honestly was not very supportive initially because of the "partying' that Greek life encompasses. However, she has made great lifelong friends in her sorority and other Greek life members and she has had to adjust to many different personalities because of this. Wake is truly a "Pro Humanitate" school and I have been so pleased with their level of both community involvement and global awareness for their students!
Try as many activities as possible, even if over time you realize they're not the best fit, or you have time limitations, etc.  You might meet some of your closest friends through campus involvement.  Furthermore, should things be a bit tricky with your freshman year random roommate it's always good to have lots of different people you can hang out with, and begin meeting friends of friends.
Choose wisely and not only surround yourself with your support group (aka "peeps") but with others not so much like yourself that you will learn from.
Our son checked out fraternities on campus and pledged 2nd semester freshman year.  He has a close group of friends within his fraternity and really loves it.
Take advantage of the club fairs and join one or two that look interesting. Get involved with your hall mates.  Take the initiative to ask others to do things with you.
Be honest filling out the roommate match form!
Homesickness in September hits many, even those that don't show it. You will miss your friends back home, you will miss your family. You will fear the unknown. The process of making true friends takes time — keep putting yourself out there and trust the process.
Don't get mono, don't get caught with fake ID, pay parking tickets on time, don't exceed speed limit. Take every opportunity presented to you.
Enjoy the parties and social activities, especially in the beginning of the year.  It's a great way to meet lots of kids around the campus.
Print out the advice Betsy Chapman of the Daily Deac gives you : Stop, Drop and Roll. USE IT !! Everything is crazy in the beginning.  Honestly, we think they need us but what they need is a non-judgmental ear.
The first month is HARD! You are not the only one having a hard time meeting people or missing your friends.
Try to convince your student to get involved in at least one or two extracurricular activities to get started.  If they sign up for too many they will be overwhelmed, but doing a few offers additional opportunities for making connections.
Your student will find their way and make lots of new friends.
I am a parent who sees the benefits of Greek Life but your child does not have to be part of Wake Forest Greek life to have an active social life.  If your child does want to pursue Greek life, they need to know that rush will likely adversely impact their schedule and studying time and they need to plan schoolwork in advance and ahead of time rather than day-to-day.
You are not the odd man/woman out.  You'll meet people who will turn out to be friends.  And you'll meet people who just aren't your type.  That's ok.
Their residence hall will be their first social connection.  Some of them will remain life-long friends, others will be part of their freshman experience.  The guarantee is that there will be plenty of opportunities for them to find their place(s).  Again, our job (with training and encouragement by Wake and the Daily Deac) is to listen, offer perspective, and let them live the experience.
On sororities – It all seems so serious and life changing when they are going through it.  While it can be a great part of their Wake experience, which one or whether they do it or not does not matter.
Find a niche and get right in. Explore different options and pick the ones you like.  Check out all you can and find your passion!
Get involved in 3 different things.
Do everything you can to get out of your residence hall room.  Study downstairs in the parlor or library.  Go to everything that gives you opportunities to get involved in clubs, etc.  Attend all home football games.  Even if you don't enjoy watching sports, it is a great way to meet people.
Get involved early and try multiple things and then weed out what you don't enjoy and choose a few to do well.
Participate in Deac traditions at least once before you get too busy: LoveFeast, Project Pumpkin, Hit the Bricks.
Get involved but keep in mind that you need an activities/workload balance. My daughter has found her closest friends thru her activities.
Take advantage of a pre-orientation experience!!! It makes all the difference especially if your student is moving far from home and doesn't know anyone else going to Wake. My son made lifelong friends.
Take it slow and sample widely.
Register to vote on campus.
Attend a pre-orientation camp! It allows your student to immediately have a core group to plug into. It made my daughters transition incredibly smooth.  She's still friends with the same kids she attended camp with!!
Try new activities.  Go to a fall soccer or football game (or several).
GET involved.