Main Content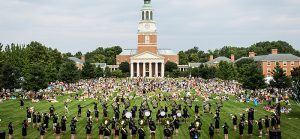 Let your student find their own way. Don't pressure them. be there when they ask your advice. 
Stay connected but give them space. Attend family weekend – a blast! And you meet the families of your students friends. Send care packages!  Everything they love from home and include plenty for friends.
Study abroad if at all possible. The Study Abroad Department at WFU is outstanding! They were so very helpful in getting she and we as her parents prepared to go and study abroad.
Take advantage of the unique WFU Traditions. Go DEACS!
For better or worse Wake is a competitive, academic environment.  Quite often over the first year and a half I would get the phone call with the download of everything that wasn't going well, and the many frustrations.  I tried to be a good listener and stay calm, suggested where he might look for help, and gave some advice, but after hanging up the phone I naturally took on all his stress and put it in one of my worry compartments.  I finally realized (not sure what took me so long), these calls were his way of venting, having a bad day, starting to get sick, relaying something he found unfair, etc.  The humor in it all was when I would follow-up several days later and delicately ask how he was doing with situation X,  person Y,  unfair professor Z, he's response was most often "what?, oh that, yeah, it's fine, not a big deal".   I then wised up and when I got the calls I said a lot of "that's a bumer,"  "hmmm", "really?",  "I'm sorry, that sounds frustrating", etc.  Then I would suggest he go for a run, go to bed early that night, go off-campus to dinner with a friend that makes him laugh (my treat), or call his older siblings and ask them for their "college war stories".  He just needed a familiar, unconditional loving voice, and non-judgmental listener on the other end of the phone.   Life is not always fair, and this is the time they are figuring it out on their own.  Sometimes it's worth pursuing the cause and proving they were unfairly wronged and other times it's an infamous "lesson learned."
Wake Wash was a life saver for our son….even though initially I was against it because we spent high school teaching laundry skills. There are too many other things to focus on.
Four years goes very fast so enjoy every moment, great and not so great. These are learning times. College is an amazing experience.
Our son started a tradition that the entire family has now adopted of writing letters to family members for special events.  This past March, for my big "0" birthday, our son shared his thoughts in a special letter.  He remembered all the big days of the past nine months (his calendar clearly tied to the Wake Forest one now!).  He highlighted the trip to Wake to move him in, parent's weekend when we sat in the stands during a football game with semi-hurricane conditions to watch him, Election Day, and several other events.  In each example, he shared how much our "overwhelming confidence and support" of him helped him through his first year.  No matter how "cool" they appear, this is an exciting but intimidating adventure.  They still need us and our support in every way we can show it.
We met our son's roommate and his parents the night before move-in for dinner.  It was a great way to get to know each other.  We still meet for dinners and brunches when we are on campus together!
For those whose kids choose not to drink — the first few weeks can seem a little more lonely.  There are groups like THRIVE and RUF that might be a great social outlet.  There are bound to be obstacles your child faces – Betsy has a great "Stop Drop and Roll" article that is worth reading over the summer.
One good list of the things to accomplish the first 2 days, not 4 different websites to seek it out and hope not to miss anything.
Read the Daily Deac to stay connected!!!!!  Call your child on Fridays prior to weekend events!
Visit Wake (& your son/daughter) every chance you get!!  Four years go way too fast … for parents as well as students!
Don't hide in your dorm. Get out there and experience all Wake has to offer.
Take advantage of academic and psychological counseling. Stay fit.
Hit the bookstore!  Check out the dining rooms/athletic center etc.  Kids need flip flops for the showers. Period!
On day one – when collecting all pertinent information, make a note of your child's college post office address and SHARE it with all and sundry. It's amazing how happy a postcard can make someone (even in this digital age!)
Send care packages. Send silly stuff. Send stuff that lets them know you KNOW them and MISS them. Special holidays are hardest!
Subscribe to the Daily Deac, and read all the news that is available. It will help you stay connected and know what to worry about or not worry about and be informed!!
Take them to Hanes Mall to Deacon store and let them get their Deac on!! Wake has been the best thing ever for my son.. he will graduate and May and go into to UGA for Grad School and I will go thru all the emotions again..Be proud and Go Deacs.. and parents we all wear black and gold on Friday but if you are like me I wear mine all the time!!
Yes, grades are important but let your child make mistakes and find their own way.  If they are having trouble, Wake has tremendous resources to help them out.  But you can't lead a horse to water.
Prepare a mini medicine chest for them with instructions on over-the-counter medicine:  thermometer; tylenol; extra-strength excedrin; advil; benedryl; sudafed – the kind you get from the pharmacist even if its OTC; mucinex; allergy stuff – zyrtec, fluonase (if you don't get hayfever where you live, spring hayfever in NC can be crazy #pollennation)bandaids; disinfectant; neosporin; daily vitamin; vitamin c-zinc immunity booster.  Most kids do not know what to get at the drugstore for minor ailments.  This will save them a trip.
You're going to love it!  We attended every orientation opportunity we could and were so impressed.  We have become complete Deac fans, particularly of the soccer team!!  That said, there will be some lows to go with the highs.  Moms particularly seem to get the distress calls and must remember that they are usually fine within minutes of getting off the phone.  I also learned that Stop, Drop and Roll is a mantra we should keep to ourselves.  Just do it.  My daughter gets very frustrated when I remind her how important it is for her to work through problems on her own.
For us (S'20 and P'20), the spring semester was much harder. Turns out there has been research done on this.  They come home for a short holiday break and when they leave, it feels more permanent somehow.  The weather is also worse, and there isn't the fanfare of the fall.  Plus, they're still the newbies.  There were a couple times when homesickness was a real challenge.  When we would ask questions to evaluate, the answer always included "I really love it here."
Call your kid every Friday. Sage advice from Betsy Chapman. Freshman year we called every Friday. The last two years he has called us every Friday. Lovely way to keep in touch.
If you live a flight away, call in February or March and reserve a storage locker for your Deac. It is very easy for your student to pack up their stuff call an Uber and dump it in the storage locker. Buy your Deac some of those big plastic totes with lids at Target. – They fit nicely under the bed.
Parents should stay no more than 3 nights.  You have to let go sometime!  Also encourage your child to call, FaceTime, or text you as much as they need to.  You want to be there for them.  I would advise having them stay on campus for the first two months, even when it's hard or they are lonely.
Enjoy downtown Winston Salem – it is a great town with so many fun restaurants, bars and venues!
We were so impressed with the volunteers on hand to help carry things. The line moved quickly ( get there early!)
I had written a card for my daughter saying all those encouraging words that I was afraid I wouldn't remember in the good bye moment..I slipped it under her pillow so she would find it her first night in her new surroundings!
My daughter loves Wake. She finds the work challenging but the professors to be fabulous mentors. Students support and help each other. A great environment for her. She has had no regrets. She is finishing sophomore year and is already talking about grad school at Wake:). Make the most of everything that is offered! Nothing better than being a proud Deac!!
Stay out of it, whatever "it" is unless your student has a real threat to their health, well-being or safety. Our son has matured dramatically in 2 years by using the resources available to him on campus and working out  his own problems. When you do have an issue that you suspect you may need to intervene; check with the appropriate department first- they are well versed in every issue- believe me they have already dealt with it and can offer you insight into how/if and when to proceed. You won't be disappointed!
Don't get caught up with the location of your freshman dorm. They are all nice and each has its own pluses and minuses.
Encourage your student to study abroad! And it doesn't have to be the place everyone is going. OK to go on a program that's not a Wake program. Get a passport way ahead of time (it takes longer than you might realize).
Utilize student helpers during movein. We literally had so much help it only took us about 2 trips in the building.  They are invaluable and we found they were eager to help since it's what they were there to do!!
Let your Deac drive all the decisions.  Don't be a helicopter parent, it's time to let go (if you haven't already).
Editorial note:  The following pieces of advice to new families were provided by families of rising sophomores, juniors, and seniors.  Comments have been minimally edited; in come cases, comments were combined with others.  In the event the advice offered ran counter to what Wake Forest advises, it was not included.  These comments represent the views of the parent/family commentators, not the views of the Office of Family Engagement or Wake Forest.