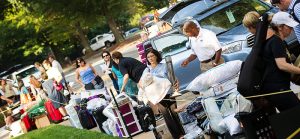 Don't bring too much!  I told my daughter that second year as well and once again she is now telling me that she didn't wear 1/2 of what she brought to school.  We are North Carolinians, so travel and move-in may have been easier for us.  Still, my daughter definitely over-packed her first year (don't most girls?) and had to learn that less is more at times.
You will only have one college move-in day so enjoy every minute. As hectic as it might seem, there is so much excitement, joy and anticipation that only happens once on this special day.
We're from California so ordered dorm gear at our local Bed, Bath and Beyond and pick up at the store in Winston-Salem was a breeze.
We bought many of the larger items locally at Bed, Bath & Beyond, but picked the order up in Winston-Salem.  We bought bedding and towels locally so we could wash everything before move-in.
Arrive early, and have a positive attitude.  The University makes moving in easy.  Parents – don't drop off and roll out the gates – take advantage of the opportunities provided to you by WFU – and support your son/daughter!  They are probably very nervous.
Make hotel reservations in advance & restaurant reservations too.
Attend pre-orientation camps to get an early start a move in & getting to know the campus.
For flying in:  Depending on when you arrive, Raleigh (RDU) is often faster than Charlotte (CLT).  Getting out of CLT at rush hour is no fun, but from RDU there is often much less traffic.
You will bring too much stuff. The freshmen dorms are tight, especially if you are not going to bunk the beds. Also, don't bring food. Buy it there. Target is a good option.
Buy refundable plane tickets because the dates always change. Under pack.
Book your hotel NOW!!!
For move in day: put your belongings ( as much as possible) into duffel bags/containers that are easy to carry.  You drop everything at the curb of your residence hall and it is moved by others.
Be sure to let the relevant parties at Wake know if you have specific food requirements (gluten free for example) – specifically for the Orientation picnic.
Don't pack stuff you can buy at Target. Pack the basic stuff you need to make your bed and decorate your walls. Once you are there, go to Target and Bed Bath & Beyond and buy the rest.
Air travel — For those of us (and our kids) for whom getting to/from Greensboro is a two-flight proposition, explaining the relative merits of flying in and out of Charlotte is something people might like to know more about.  For example, there are far more flights in and out of Charlotte than Greensboro.  If you are flying into Charlotte and miss a connection, it can be easier to get another flight to Charlotte since more are offered, than if you miss a connection to Greensboro.  But ground transportation Charlotte (or Raleigh) airport (since students can't rent cars) is much more expensive from these airports vs. Greensboro.  It all works out and everyone has their "way" of doing it — but explaining those options better to the two flight world would help.  Our son flies in/out of Greensboro and Charlotte.
Re: move in day: your student (and you) are nervous with emotions running high. Help your student move in but let them set it all up themselves. Don't linger around crying and showing emotions to them because it only upsets them more. Let them know if they need you that you will be around to help.
We live a "plane ride away" and found it extremely helpful to go to a Bed Bath and Beyond near our home and pick out all of the "dorm room necessities" such as bedding, linens, storage crates, room decor, etc. and it will be ready to be picked up at the Winston-Salem Bed Bath and Beyond.  We arrived a day before move in to pick all of that up, but then only had to pack clothing and some basic essentials to check on the plane.  It went very smoothly.
Do NOT let your child bring the contents of a studio apartment on move-in day.  Plan the basics; let your daughters do some decor, not all and fill in the holes after move-in.
The best advice to moms:  make your child's bed when they move into the dorm.  It will make you feel better!
Advice to other out-of-state families: 1) If Southwest Airlines is an option, the two free bags can be a fun way for the family to come along and help with the move. Bring bags you can pack in other bags for easier trip home.  2) Bed, Bath & Beyond offers a "registry" program for college students where you order at your local store or online and pick up in Winston-Salem. 3) There are numerous summer storage options that will be posted around campus and students will get emails where they drop off boxes to be filled and then pick them up from their room and drop them off in their new room next year (or after study abroad). 4) From our home, Greensboro has limited flight options.  Raleigh (RDU) and Charlotte (CLT) are about equal distance.  We enjoy the drive from Raleigh more but generally go with best flight times… Students can sign up for Shuttle at information desk in Benson or find Uber driver. Once they join groups, ride share becomes more of an option.  5) Pre-orientation programs are a great option.  They can begin move-in before the craziness of move-in day but will still be part of the action that day.
Deacon camp [a pre-orientation program] allows you to move in early. That was a godsend!
Buy your stuff at Target or CVS when you arrive. Plan to stay 3 nights for move in. We were so glad we did. From MN and our T-Mobile out did not work on our son's phone – as in NO SERVICE at all. Asked the campus tech people what the best plan was, they said Verizon, it took a whole afternoon to find a Verizon store and get our son a new phone and plan. So glad we had the extra time.
I think it's best for first year parents to stay at the Hampton Inn near Bed, Bath and Beyond, etc.  You will spend a lot of time there getting the items you need.  See if your local BB&B offers the service where you order the items you need at your hometown store and they will have them waiting for you at the store in Winston Salem.  Every room could use a small rug.  Do not bring a car your freshman year.  The parking is too far away.  Uber or zip cars on campus are great alternatives.  The athlete service of helping you move in is great.
Our daughter's freshman year we stayed in a hotel the night before move-in. We got up bright and early drive over to campus, were first in line, waited for an hour for the doors to open and realized that she had left her driver's license at the hotel. She could not check in or start to move in (even though her two roommates were there) without her ID. Very frustrating, but lesson learned. Always have your ID the first day.
Bring a tool kit., power strip, extension cord! We needed small hammer, tape measure, pliers, …the girls kept changing their minds on room set up so before we moved beds again we measured! And those approved bed risers..have em with you.   My husband recalled they made a trip to Target and he thinks Target gave them a student discount?!
Order from Bed, Bath&Beyond and pick up in Winston. Don't go overboard before you actually see the room. Target and Walmart are close to campus for last minute needs.
Make a picture collage of friends/family/pets from home to help with initial homesickness.
DON'T  book reservations until the last possible minute and BE PREPARED when the student calls after flights have been booked for weeks and the prof cancels the class the day before Thanksgiving,etc. (UGH! this is so frustrating). We have had to eat change fees every single break because of last minute "nice" professors who make the classes right before the break optional or cancel them.
Cut everything you intend to bring by a third.  It us unfair to your freshman to expect them to "manage" all the stuff.  They will thank you and you will be grateful as well.
Bring things to put on the wall that make it personal.
You will receive help from varsity athletes to carry in the massive amount you are bringing for your child and they unloaded my car so fast in the fall of 2014 that I shouldn't have even turned it off!
Keep a person with your Deac's belongings at all times!  Including once their items are loaded into a rolling cart.  Stick with that person like glue and/or bring some binder clips & paper w/your Deac's Dorm, Room and Hall # (like Babcock 318A).  Clip the paper to the rolling bins just in case they get separated from you and your family!  Also, pack belongings inside rubbermaid bins and suitcases – fewer larger (but manageable) items are better than a bunch of small items you have to keep track of.
Unless you live in Alaska, don't pack everything including the kitchen sink. Your students can and will survive with a lot less than they think they "have to have". Amazon makes it easy to get anything to them within a few days if need be. Coordinate with your roommate so as not to duplicate.
Attend one of the preorientation camps, they help your Deac make friends and you can also move them in ahead of the crowds.
Make your Family Weekend reservation early.  Move in line is long 1st thing in the morning. Coming a little later it is easier.