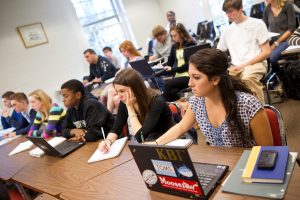 I remember first semester being the hardest for my daughter. Her course load was very heavy and although she attended a rigorous academic high school, her stress level reached points that concerned me many times. She figured it out second semester. It's ok to ease into college.
Wake Forest is a "work hard, play hard" university which equates into a balancing act of academics, social life, community involvement etc….Your child needs to know that going in and many of them have been very successful academically in the high school setting and will continue to do so if they remember and practice this on-going balancing act. Wake offers great study environments and academic assistance…take advantage!
Please, please, do not come into Wake as parent or student thinking "getting into the business school is a do or die situation".   Our student entered thinking that was the only road to go and what he "should do" because so many of his friends were doing the same thing. Fortunately he is our youngest and we knew otherwise, but while he was learning this lesson he experienced unnecessary stress and academic competition. (Adjusting to college as a freshmen is enough of an undertaking and rollercoaster ride.)  He was not accepted into the business school and it was one of the best things that happened to him at Wake.  He found another way to achieve his objective, was much happier, had some amazing professors and he is ecstatic to be graduating with his dream job, in the business world.  We hear him giving others the same piece of advice, it's important to remain open to new possibilities when things don't go according to plan!
Enjoy every class even if it's not what you thought it would be. There is always something to be learned!  Study abroad if possible….so much growth and so many life lessons.
Our son used some of his AP credits so he could take only 12 credits his first semester.
Take a lighter academic load the first year. This is a big transition year – give yourself the room to explore academic and social landscape without being overly burdened by course work.  there is more to college than the classroom time.
Let your student figure things out. Use the student advisers for advice and encourage getting to know the professors.
Be patient with the course selection process. First years don't get everything they think they want, but often get something that turns out to be a pleasant surprise.
Don't miss class. Get help early. Plan academic calendar strategically if you rush a fraternity or sorority. Stay healthy.
ASK, ASK, ASK!!!  The process for signing up for courses can be confusing. Don't fret as it does work out.  By second semester the kids will figure it out but make sure that they ask upperclassmen as they have been through the process.
Students – Visit the Office of Academic Advising often. DO your CV (curriculum vitae)!! Then it's easy to update when needed.
Study hard during the week. You won't be getting all A's like in high school.
Your child is likely coming from a high school where his or her days were packed from early morning to evening thanks to classes, sports and after-school activities.  When they get to college, the time spent in actual class is way less than the time they spent physically at school in high school.  It can be hard to manage all that free time. Make sure they know this in advance.  My son got a bit lost in all the free time.  Distraction heaven! The new students need to use that free time to get ahead in their work; not just keep up with it.
Things will make sense.  Look outside your box and you'll be surprised at the results.  And mix some somewhat easy classes with more difficult ones.
Registration at Wake Forest can be overwhelming, especially for freshmen.  The two stage process is different from what many of their friends at other schools experience.
Start practicing Stop, Drop and Roll and providing perspective in the form of questions particularly – "What resources does Wake offer to help you?" Note that our Deac had a problem with her fall schedule that could not be resolved until orientation and it all worked out.  When it came time to register for Fall 2017 she was struggling to determine her schedule. We sent her a link to the Office of Academic Advising.  She then met with them, came up with an action plan and followed up with specific departments.
Treat your day like a job. Go to class and study 9-5 with an hour lunch break. After that, see what is left to do!
Let your student sail that ship. Stay out of it.
Ask current WFU students recommendations for first semester classes, teachers, etc.  Don't take too hard of a class load as there are a lot of life adjustments that first semester.
Just because your child can place out of something due to AP scores doesn't mean they should. The classes at Wake are challenging. My daughter placed out of one Calculus and chose to take a higher one. She worked very hard and ended up with a B-, her worst grade at Wake to date. She wished she had taken the easier Calc and done better for her first semester.
Order books ahead of time (check Amazon for used prices)so you don't have to stand in bookstore line.
Pace yourself. My daughter realized quickly that being a successful Deac means a lot of work. Plan ahead and pace yourself to meet the many deadlines.
Encourage your student to go to office hours and ask the professor if they have a question. Every time our son did, he found the professor was more than happy to work with him and clarify expectations.
Don't underestimate the demand of foreign language on your time and schedule.
Make sure your student takes advantage of meeting with his/her academic advisor. Important to stay in touch in regard to required classes for a major. Tell your student don't be afraid to ask for help – writing, math lab, etc.
Be a sounding board for your student but don't try to fix their problems. Offer suggestions and tips but let them do the sweat equity. It's their education and it's the only way they'll learn valuable life lessons like how to problem solve and communicate.
Try to have your student take a reasonable courseload first semester.  It builds confidence and allows them to have time to acclimate to campus life.