This website contains information for students in the Class of 2025, who started school in August 2021. Information for the Class of 2026, who will begin in August 2022, will be available starting May 1.
Lots to do this month!
Your to-do list will be full from now until August. Continue to consult the calendar pages for June, July, and August for activities that will take place throughout the summer.
Please consider joining us for a New Student Reception. Two virtual receptions will be offered on June 22 and July 14. These programs are not geographically-specific and will provide a glimpse into life at Wake Forest, some top tips for transitioning to college, registering for classes, approaching residential living, and Q&A with a panel of current students. We hope that every incoming family will join us at one of the virtual options and that you'll also register for a local Reception should one be offered in your area. Details, dates, and registration can be found here.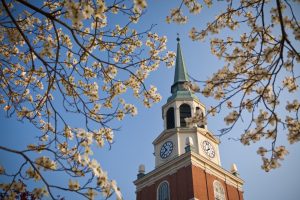 Pro tip for June:
If your student has a documented disability and used accommodations in high school, be sure to complete the Request for Consideration form. Some students want to try college without those accommodations and later discover they wished they'd had the accommodation from the beginning.
Due dates and deadlines for parents and families
June 1:
Look for New Student Receptions in your area and/or the virtual options (June 22 and July 14) and register. We anticipate that receptions will be added throughout the summer, so check back periodically.
Submit your Family Record Form if you had not already done so.
June 7: Talk to your student about authorizing you as a third-party payer on their DEAC account – this will allow you to have access to financial statements and bills.
At your convenience:
Review the Advice for New Families page 
---
Important reminder about the calendar – Use a pencil, not a pen. 
As we move through the next few months, you may see changes to dates and events due to the University's response to COVID-19. When making travel plans, please remain flexible and be aware of hotel/airline change policies. Keep visiting the New Students website regularly for the most updated information.
---
Want to look ahead to the coming months? See dates for:
June 2021 Dates & Deadlines for Students
---
JUNE 1
Students may view their registration time in WIN
Available in WIN
Ensure that your parents/family members have completed the Family Record Form
Complete the Family Record Form
New academic year WakeWare laptops available for purchase online or in the Bookstore
Purchase online at WakeWare
New Student Receptions
From early June to early August, receptions for new students and their families will be held across the country. The 2021 New Student Receptions will be offered virtually and also in person in selected local areas. We hope that every incoming family will join us at one of the virtual options (June 22 or July 14), and that you'll also register for a local reception should one be offered in your area. Registration is required so we can have an accurate count of attendees.
Register Here
JUNE 4
Deacon OneCard Photo Submission (available online May 3)
Complete Form Here
Dining Application (available online May 3)
Complete Application Here
JUNE 7
Pre-orientation registration closes Pre-orientation programs are optional, but strongly encouraged
Please visit Pre-Orientation Programs page for more information
Directed Self-Placement for writing course enrollment (available May 31)
Authorize Third-Party Payers on DEAC Account
Instructions
JUNE 17
Log in to College Board and designate WFU as AP score recipient
More Information
Submit IB scores
More Information
JUNE 22
New Student Reception (virtual)
Pre-Register Here
JUNE 25
Living Learning Community Survey
Sent to your WFU email on June 21