This website contains information for students in the Class of 2025, who started school in August 2021. Information for the Class of 2026, who will begin in August 2022, will be available starting May 1.
What should we be doing right now?
Now is the time to have conversations with your student about college expectations and responsibilities, good judgment, etc. See the Advice page for ideas of topics to cover.
It's also a good time for parents and families to give their students more independence in making decisions – and not provide answers or solutions. Use the Stop, Drop, and Roll framework as your guide.
Encourage your students to check their WFU email daily. The Office of Academic Advising will communicate with students via email, as will faculty and other administrators once school starts. It would be best for your Deac to get in the habit of checking their WFU email now. You can see a list of emails sent to all new students here.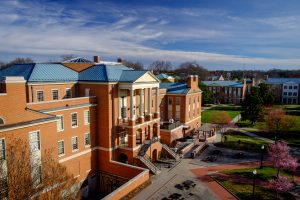 Pro Tip
Before you purchase airline tickets for breaks or holidays, students should consult their course syllabus (given on the first day of class), the final exam schedule, and residence hall closing/opening dates. While families can use the academic services calendar as a general guideline, wait to make firm travel plans until your student has started class and knows all attendance policies, scheduled exams, etc.
Due dates and deadlines for parents and families
July 1: 
Health Information and Immunization Form – this is required by the University and the State of North Carolina; the form must be on file for students to attend fall classes.
Disabilities documentation (if applicable)
Ensure your student has uploaded their COVID vaccine documentation (or has submitted a religious or medical exemption)
Fall tuition notification is issued today (tuition must be paid by August 1)
At your convenience
Determine if your student will register for the Zipcar program
Put a reminder in your calendar for Family Weekend registration, which opens August 2 (Family Weekend is scheduled for October 1-3, pending public health guidance)
Talk to your student about them granting you FERPA Proxy Access – this allows administrators to share information about grades or other aspects of your student's experience
Important reminder about the calendar – Use a pencil, not a pen. 
As we continue to move through the summer, you may see changes to dates due to the University's response to COVID-19. When making travel plans, please remain flexible and be aware of hotel/airline change policies when making reservations. Keep visiting this New Students website regularly for the most updated information.
Want to look ahead to the coming month?
July 2021 Dates & Deadlines for Students
---
JULY 1
Submit Disabilities Documentation
Disability Services
Health Information and Immunization Form (available May 13)
Form
Submit COVID-19 vaccine information
Upload your documentation to the Student Health Portal.
Record your name in NameCoach
Available in WIN
JULY 5
Writing Course Survey
Sent to your WFU email on June 21
JULY 9
Foreign Language Placement Test (available online May 13)
Complete on the Office of Academic Advising Website
Sign up for Project Wake
JULY 12 - JULY 16
Rounds of Registration for Fall Courses
More Information
JULY 14
New Student Reception (virtual)
Pre-Register Here
JULY 17 - 23
Add / Drop period for Fall Courses
JULY 23
Complete Course Preference Survey
Sent via WFU Email on July 9
JULY 30
Housing Assignments Released
Sent via WFU Email