This website contains information for students in the Class of 2025, who started school in August 2021. Information for the Class of 2026, who will begin in August 2022, will be available starting May 1.
Move-in is almost here!
The New Students website (newstudents.wfu.edu) is the central location for all information about required activities for incoming students and their parents/families, as well as Orientation and move-in.
This website will be active until the first day of fall classes, then all new parent and family information will be at parents.wfu.edu and newstudents.wfu.edu will no longer be updated. Be sure to bookmark parents.wfu.edu and familiarize yourself with the site.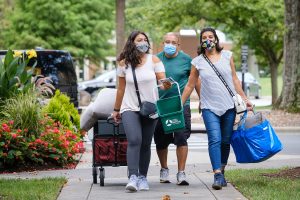 Pro Tip
Before you decide whether your student needs a car on campus, look into the Zipcar program. And don't forget to bring your reusable water bottle on Move-In Day – it's often the hottest day of the year. There are many refill stations on campus.
Due dates and deadlines for parents and families
August 1: Due today:
Tuition – third-party payers can log into (DEAC) to view statement; view payment options
Submit the Health Insurance Enrollment/Waiver Form (you must enroll or waive coverage or you will be charged for WFU student insurance)
August 2: Register for Family Weekend
August 5: Determine if you will ship items to campus. – while this is not a formal deadline, you will want to allow enough time for any packages to be sent to campus in time for move-in
August 12
Ensure your student has checked their account for financial holds and arrange payment if needed
UPDATED DATES 6/23 – August 18-19 – Move-in (per your student's appointment)
We anticipate a multi-day move-in process for our incoming '25 students and transfer students; that will take place in the August 18-19 timeframe. New student residence hall assignments will be sent out the week of July 26th. Once students receive their residence hall assignment, they can schedule a move-in appointment.
To be announced – Parent/family Orientation
We hope to hold in-person Orientation activities for parents and families. As decisions are made, information about parent and family Orientation will be added to this page, and/or  amended as needed pending public health guidance.
August 22: deadline to enroll in tuition insurance
---
Important reminder about the calendar – Use a pencil, not a pen. 
As we get closer the start of school, you may see changes to dates due to the University's response to COVID-19. When making travel plans, please remain flexible and be aware of hotel/airline change policies when making reservations. Keep visiting this New Students website regularly for the most updated information.
August 2021 Dates & Deadlines for Students
---
AUGUST 1
Fall Tuition Due (Statement available on DEAC July 15)
Instructions
Log into (DEAC) to view statement and make payment.

Health Insurance Enrollment/Waiver Form (available June 1)
Complete Form in BCBS
AUGUST 2
Register your car for a Parking Pass (if applicable)
Parking and Transportation
AUGUST 12
Check WIN for financial holds
Students may view Fall course schedule in
WIN
WIN
AUGUST 15
Complete Social Belonging Online Program (available August 1)
Sent via WFU Email
AUGUST 16
Register cellphone with Wake Ready
Instructions
Register property with University Police
Form
Download the LiveSafe App (optional)
More Information
AUGUST 18 - AUGUST 19
First-Year Move-in Days
AUGUST 23
Fall 2020 Classes Begin